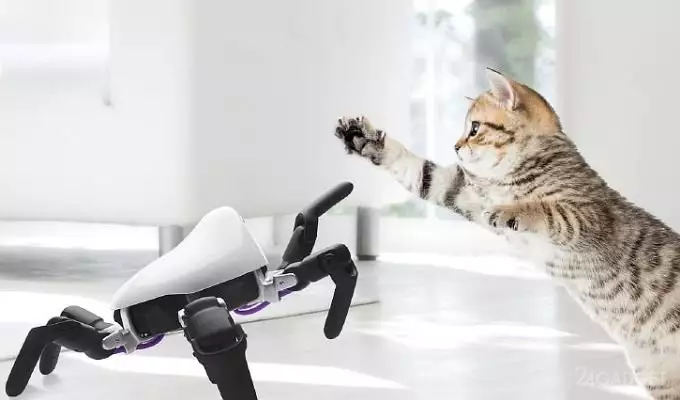 The NEXA robot hexopod looks very similar to a spider or crab, with only six legs for movement. Its main highlight, in addition to attractive design, is the ability to learn and reprogram using its own operating system and SDK. According to the developers, wide knowledge in the field of robotics and programming is not required.
NEXA, thanks to the articulated joints on six legs, has high maneuverability when moving around terrain with difficult terrain. The geometric dimensions are quite small: height – 120 mm and diameter with spread out "paws" of about 500 mm, which allows you to pack NEXA in an ordinary backpack.
The robot is equipped with optical spatial sensors, allowing it to self-learn and \Each of the six limbs is endowed with three articulated joints, due to which the gadget quickly moves in any direction, getting acquainted with the surrounding space using a camera with a resolution of 720P and a night vision device. A three-axis accelerometer is responsible for the balance during movement, and a distance sensor and an infrared transmitter perform reconnaissance of the terrain.
MIND's own operating system is based on Linux and is designed specifically for robots. It provides for the presence of special drivers and libraries to facilitate the management of mechanisms. The operating system helps the robot learn new movements. Communication is supported via Wi-Fi. The heart of NEXA is the dual-core ARM CORTEX-A9 processor, with a frequency of 1 GHz, you can connect to the device via a USB port. There are audio and video inputs, ADC, GPIO interface. The battery has a capacity sufficient for operation from 45 to 180 minutes, depending on the intensity of movement, type of terrain and lighting. Battery charging time is 2.5 hours when using a traditional wired charger and 4.5 hours for wireless charging. The memory capacity of spider robots is 8 GB.
At this time, ordering a trained robot on Kickstarter will cost $ 499.