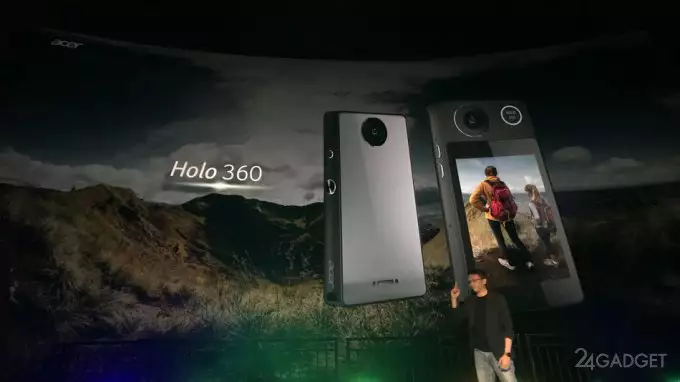 Not wanting to lag behind competitors, at the Acer @ Next conference, Acer first introduced its own Leap Ware smart watch and Holo 360 stereo camera. The watch will go on sale in July, nothing is known about the date the camera entered the market.
Acer Leap Ware smart watches targeted at fitness and healthy lifestyle fans are equipped with MediaTek MT2523 chipset and MT2511 biosensor. The gadget is able to measure the basic vital signs of the user, including heart rate, fat and stress / fatigue, the UV radiation index and other data important for the preparation of fitness programs. They are displayed on a 4.2 mm display. Also, all indicators are transferred to a smartphone running Android / iOS in the proprietary application Liquid Life. The novelty is equipped with a battery, the charge of which is enough for five days, and removable straps for 20 mm. The cost of the product is $ 149.
The Holo 360 VR camera is adapted for Android OS and can call without connecting to a smartphone, open Twitter, Instagram, Facebook, other social networks and applications. Thanks to the presence of a SIM card slot, Wi-Fi and support for 4G LTE mobile networks, the gadget easily connects to the Internet. As for stereo shooting, the camera is equipped with only two modules for creating panoramic photos and videos, the result can be immediately downloaded to these applications. The appearance of the novelty should also not have any complaints: the compact size, gray metal case, touch screen and glossy control buttons will attract the attention of anyone.