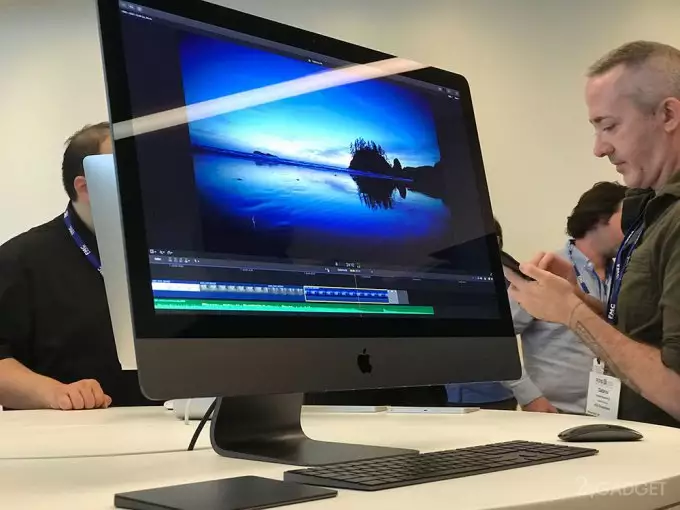 Announced in the summer at a conference for developers of WWDC 2017, the Apple iMac Pro all-in-one will only be available in December, but an impressive price tag even on the basic model makes many users interested in apple production grumble. Perhaps in order to more clearly show what it is offered to pay for, the company brought its new product to the third annual Summit Final Cut Pro X Creative Summit, which took place this weekend in Cupertino, in order to clearly demonstrate the outstanding skills of the machine when running the video editing program.
In addition to the candy bar itself, the company brought complete accessories, a Magic Mouse 2 computer mouse and a Magic Keyboard with Numeric Keypad, made in the same Space Gray color as the iMac Pro itself.
iMac Pro is positioned by Apple as the most powerful computer among all Macs. A professional-grade PC is aimed at designers, architects and other professionals who have to deal with the most demanding tasks on a daily basis.
Apple iMac Pro consists of a 27-inch Retina 5K display with a resolution of 5120×2880 pixels and support for up to 1 billion colors, two fans for cooling, an Intel 8-, 10- or 18-core Xeon processor working in tandem with an AMD graphics card Radeon Vega Pro with a maximum of 16 GB of internal memory HBM2. The maximum memory capacity in the maximum configuration can reach 128 GB, SSD-drive – up to 4 TB. There are four USB 3.0 ports, four Thunderbolt 3, one 10Gb Ethernet, an audio jack, an SD card slot, Wi-Fi 802.11ac and Bluetooth 4.2 modules, a FaceTime HD camera and stereo speakers. Performance and connectors will allow you to connect two additional 5K-monitors or four 4K-monitors with 60 Hz support in both cases.
The price of the base model iMac Pro will be $ 4,999, the most productive configuration of the new items will cost $ 17,000.