The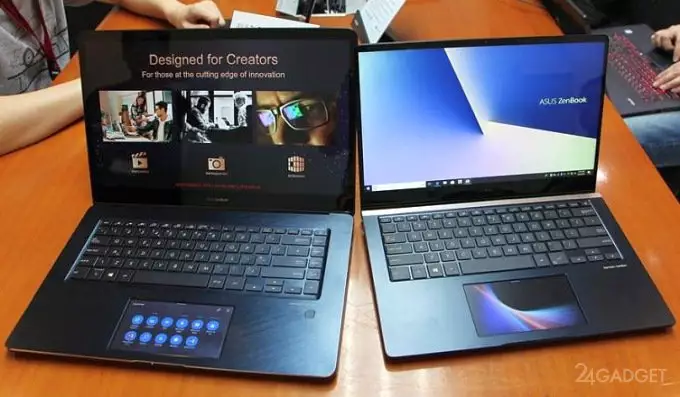 Asus ZenBook Pro, introduced at Computex 2018, is Asus' new premium laptop and comes with an exciting new feature: a touch screen in place of a regular touchpad. Released two models of ZenBook Pro and their so-called ScreenPad. ScreenPad is "the world's first smart touchpad," according to Asus, because it can also serve as a multi-function touch-screen display, a kind of smartphone that integrates with your Windows laptop.
5.5-inch ScreenPad with a resolution of 1920 x 1080 pixels can be turned into an application launcher, calculator, calendar or numeric keypad. It can also play YouTube videos through the Chrome extension, or simply expand the ZenBook Pro's main screen. Switching between modes is done using the F6 key.
Asus is working with Microsoft to develop Office integration for ScreenPad. It can also function as a neat music and video controller. The manufacturer will release the ScreenPad development kit and save a website listing all compatible applications, most of which will be found in the Windows Store.
The 15.6-inch model of this laptop is equipped with a 4K touch screen with excellent color reproduction and thin frames. Notebook ZenBook Pro 15 (UX580) runs on Intel Core i5-8300H, Core i7-8750H and even on the six-core Core i9-8950H. Discrete graphics NVIDIA GeForce GTX 1050 Ti 4GB. The RAM capacity is 16 GB, there is a 256/512 GB SATA SSD and another 512 GB or 1 TB PCIe SSD drive. High-quality sound is provided by the Harman audio system. Stated 10 hours of laptop life without recharging with a battery of 71 Wh • h. The laptop received Wi-Fi 802.11ac WiFi, Bluetooth 5.0, two USB 3.1 ports, two Thunderbolt 3 / USB Type-C, HDMI 1.4, a headset jack and microSD card reader, a fingerprint scanner.
The 14-inch ASUS ZenBook Pro 14 (UX480) will come with the same 5.5-inch ScreenPad. The eighth generation Intel Core i7 processor, simpler NVIDIA GeForce GTX 1050 graphics and up to 16 GB of RAM. There is no fingerprint scanner, but the camera supports Windows Hello technology. The declared operating time is 13 hours.
In July, on the shelves of stores you can see a 15-inch model at a price of $ 2,300. At the end of the year, a 14-inch model will be on sale.
, ASUS ZenBook Pro 15