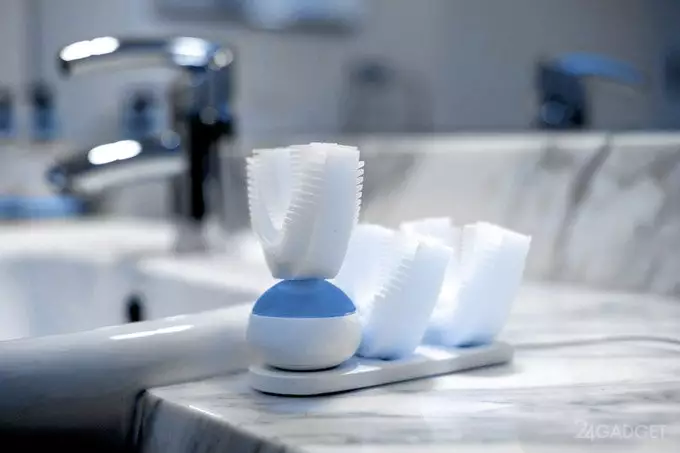 Amabrush – a device that allows not only to reduce the time spent on daily brushing, but also significantly increases the effectiveness of this procedure. In just 10 seconds without the expense of effort, you can achieve the desired result – thoroughly and efficiently brush your teeth. The uniqueness of the product lies in the fact that the cleaning process is fully automated.
Structurally, the Amabrush device consists of two main elements: a removable cleaning nozzle made of special silicone with antibacterial properties, and a drive mechanism for vibrating the cleaning element.
Amabrush brushing technology is quite simple. The user inserts a cleaning nozzle, similar to a boxing mouthpiece, into his mouth and connects it to the drive using a magnetic coupling. The device is activated by pressing the start button. Inside Amabrush is a capsule filled with toothpaste, which enters the work area through microscopic channels.
Developers achieved high efficiency and safety while brushing their teeth by placing the bristles at an angle of 45 degrees to the plane of the gums and tooth plates. In this case, soft bristles make reciprocating movements along a path excluding damage to the user's delicate gums. Vibration of the bristles and precisely calculated trajectory, covering immediately the entire surface of the teeth, can reduce the procedure to 10 seconds compared to 180 second traditional brushing. Toothpaste is changed every two months. Replacement of the Amabrush brush itself should occur in the same way as in the usual case – once every 3-6 months.
Amabrush, which is due to arrive on the market in December, is worth $ 89. The price of toothpaste is $ 3.4. In a short time, more than one and a half million euros have already been raised at the crowdfunding site, with 50 thousand required to launch the project.