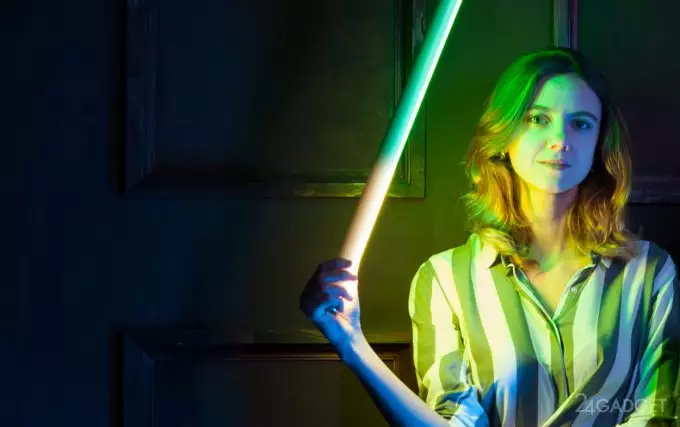 UniColor is an LED color lamp that creates original lighting effects while reproducing 16 million colors. This design is perfect for painting with light. It offers the user four hundred different modes, as well as a convenient wireless remote control for controlling the lamp from a distance of 20 meters. The novelty allows you to shoot the process on camera, while changing settings. There is also a mount for mobile devices. Self-sticks with such functionality, it seems, have not yet been.
UniColor LED-lamp is presented in a pair of formats: UniColor with a length of half a meter and UniColor Pro – a gadget increased to a meter. The device compares favorably with many analogues by the presence of protection against water and dust according to the IP67 standard. The product was even successfully tested in salt water. The robust housing protects against damage when dropped from a height of up to five meters.
The gadget has a built-in battery that provides UniColor up to 8 hours of operation, Pro version – up to 4 hours. You can recharge using a portable battery or an existing traditional charger. Shines UniColor 180 ° at a distance of one and a half meters. An ordinary lamp provides a brightness of 900 lumens, the \Size and weight of the first model: 550 × 29 × 29 mm and 0.45 kg, second: 1050 × 29 × 29 mm and 0.65 kg.
UniColor on Indiegogo starts at $ 80 for a small version and $ 120 for a large version. When the campaign ends, their prices will increase to 150 and 180 dollars, respectively. Most likely, deliveries will begin in late spring – early summer of 2018.