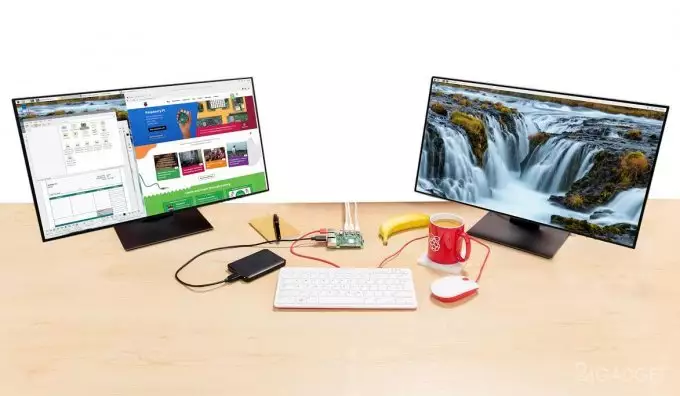 Raspberry Pi Foundation has made a more functional and powerful version of its own microcomputer. The novelty was called Raspberry Pi 4 Model B. It costs very attractively – from 35 dollars.
The development was equipped with the latest Broadcom 4-core system-on-chip processor (ARM Cortex-A72). It is three times faster than similar predecessors. Its working frequency is 1.5 GHz. The filling of the Raspberry Pi 4 Model B is capable of decoding HEVC video as 4Kp60, and OpenGL ES 3.x graphics are supported. Thanks to the above, the gadget can also work as a media hub, supporting the operation of two monitors with 4K resolution.
Bluetooth 5.0 and Wi-Fi 802.11ac modules provide wireless communications. For wired data exchange, there are two USB 2.0, two USB 3.0, two micro-HDMI (full-size HDMI is missing), a Gigabit Ethernet network port. Instead of the obsolete micro-USB power connector, a more modern analogue of USB-C is installed. The 3.5 mm headphone jack is returned.
You can choose the configuration with RAM LPDDR4 SDRAM in 1, 2 or 4 GB. For the purchase of these original versions will have to pay 35, 45 or 55 dollars, respectively. The novelty is compatible with accessories of previous versions. At the same time, the company released many new credit card-sized accessories for a single-board computer.