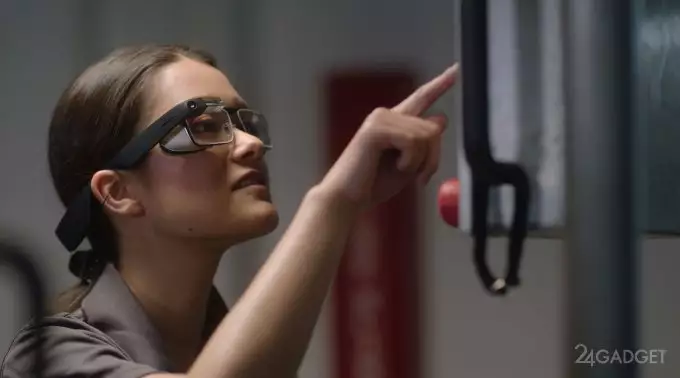 The new augmented reality glasses Google Glass Enterprise Edition 2 were presented by developers from Google. The improved model received a more powerful processor, a more capacious battery, an updated camera and a new frame design. The price of the new model is $ 999, which is $ 500 less than the cost of the previous version.
The first model of augmented reality glasses Google Glass was presented by developers back in 2013. The gadget has become an excellent tool for engineers and workers from different companies. The information block in Google Glass was placed above the right eye. The image was reflected from the prismatic block, and the user could see the displayed information. Glasses are not a complete augmented reality device capable of superimposing an image on real objects. Google Glass is more likely an auxiliary information device for companies that use them in their activities.
The design of the new smart glasses has remained virtually unchanged, with the exception of the frame, developed jointly with Smith Optics. The main innovations concerned the hardware of the device, which runs on a quad-core 10-nm Qualcomm Snapdragon XR1 processor with a clock frequency of 1.7 GHz, created specifically for stand-alone AR and VR devices. The new chip is developed on the ARM architecture and has a dedicated unit for hardware acceleration of neural network algorithms, the Adreno graphics core and the Hexagon Vector digital signal processor. The image is displayed on the screen in 4K resolution at up to 60 frames per second. The glasses have 32 GB of permanent memory and 3 GB of RAM and work under Android 8.0 Oreo OS with support for Android Enterprise Mobile Device Management. The Glass Enterprise Edition 2 camera sensor has a resolution of 8 megapixels. New wireless standards are supported – Bluetooth 5.0 and Wi-Fi 802.11ac. There is a USB-C connector with support for fast charging. The device screen received a resolution of 640 by 360 pixels. The battery capacity of 820 mAh (570 mAh for the predecessor) allows you to work offline for 8 hours.
Google is currently beginning to take pre-orders for Google Glass Enterprise Edition 2, which cost $ 999, while the price of the previous model was $ 1,499. The novelty is intended for customers from the corporate sector, it is not possible to buy them for an ordinary buyer for personal use.