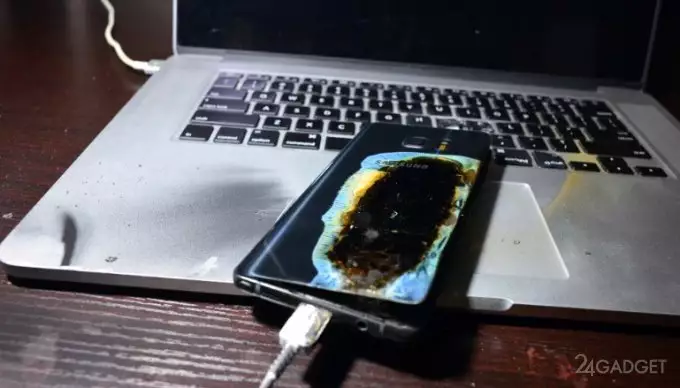 Due to the scandal with the flammable Galaxy Note 7, Samsung has decided to withdraw most of the delivered and sold devices. However, it is too early to say that updated versions of the flagships are safe. From China, supposedly a "safe" region with Galaxy Note 7 due to the fact that Amperex Technology Ltd (ATL) batteries are installed in the smartphones, and not problematic batteries from Samsung SDI components, a message was received about the ignition of the updated Samsung Galaxy Note 7, which injured his owner and damaged MacBook.
Chinese Hui Renji bought a flagship in the well-known Chinese online store JD.com with a black square on the box – this is the icon that marks safe devices from new supplies. During the day, while charging, the Galaxy Note 7 exploded, and the owner received a burn of two fingers and a damaged MacBook, which was nearby. However, it is impossible to say one hundred percent that the case is not fake and the matter is in the Samsung device. The fact is that the Chinese refused to give in exchange (for money or a new Note 7) an exploded smartphone to a Samsung representative who arrived at the victim's house to remove the device for further examination. According to Renji, he does not trust the company and intends to independently understand the causes of the fire with the involvement of the public. In addition, it is not clear exactly how the ill-fated flagship was charged – through a branded charger or accessory from an unknown manufacturer. And what did the smartphone on the ultrabook keyboard do? Earlier in China, two cases of intentional external heating of the Galaxy Note 7 were already recorded to simulate a battery explosion. And one more thing – the purchase was made through the platform JD.com. Was the purchased device from a new updated batch? This fact could be established by the manufacturer's expertise, which the victim refused.
So far, with confidence we can only say that the new incident with the Galaxy Note 7 will negatively affect the reputation of South Korean Samsung and the sales of its smartphones.