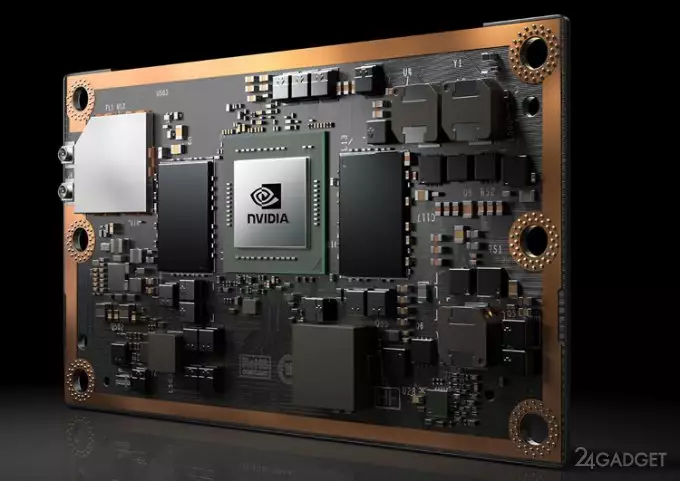 NVIDIA introduced the second generation of the Jetson platform, the main purpose of which is to ensure the operation of modern high-tech devices, especially robots. The presented Jetson TX2 product is twice as productive as its predecessor TX1 and at the same time consumes the same amount of electricity.
The new model uses Pascal GPUs with 256 CUDA cores, a 64-bit processor with NVIDIA Denver 2 and ARM Cortex-A5 cores, the computer is equipped with 32 GB of RAM and 8 GB of internal memory. At the same time, the device is equipped with a Wi-Fi module, Bluetooth for wireless communication and an Ethernet connector. Interfaces are supported, including DP 1.2, HDMI 2.0, SATA, USB 3.0, UART, SPI, I2C, I2S, GPIO, etc. The dimensions of the Jetson TX2 are 87 × 50 mm and can be compared with the size of a bank card.
NVIDIA also introduced a new version of artificial intelligence SDK JetPack 3.0, designed to manage Jetson platforms. This option has the ability to use the technology of deep neural networks and machine vision. Users will be able to use Jetson TX2 in products and high-tech products to identify personalities of speech and face recognition, which will increase security and protect companies. The powerful new Jetson TX2 computer will help students and researchers working in the field of artificial intelligence. The expected cost of the TX2 device coming out in the second quarter is $ 400.