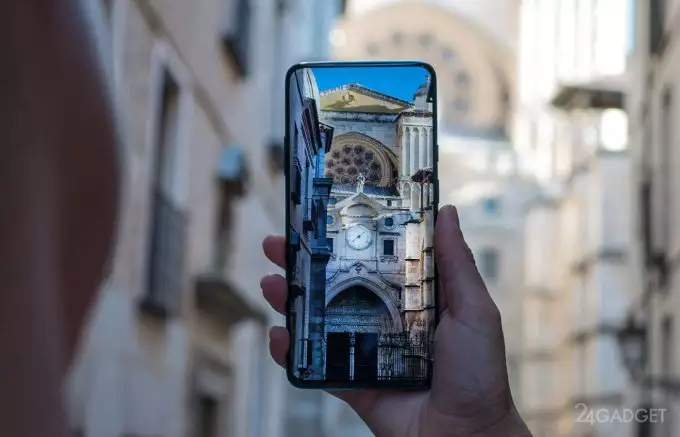 As we already know from the official announcement, the flagship model OnePlus 7 Pro received the main camera of 3 modules: the traditional Sony IMX586 at 48 megapixels (f / 1.6, pixel size 0.8 microns or 1.6 microns in the 4-in-1 mode when shooting with low light), wide-angle at 16 megapixels and 8-megapixel telephoto. Optics allows the camera to use triple zoom and optical stabilization. The front is represented by a 16-megapixel Sony IMX 471 sensor (f / 2.0, 1 μm, HDR). As a result of the test, DxOMark assigned 111 points to the test subject, placing him in the ranking of the best smartphone cameras in 3rd place after the P30 Pro from Huawei and the Galaxy S10 5G from Samsung, which only have 1 point more than a beginner.
Experts rated the color rendering best in OnePlus 7 Pro. The smartphone accurately conveys the picture in sunny weather. In addition, the gadget implements an excellent balance between noise suppression and texture transmission of objects. Appreciated in the device and the bokeh effect (software blur the background). OnePlus 7 Pro almost perfectly defines the silhouette of a person, separating him from the background. So the result seems extremely natural, almost like on a camera with a large sensor. True, the DxOMark experts had complaints about the zoom lens. At medium and short distances, it functions very well. If you move away from the subject, the picture quality is lost. This reduces detail and noise.
Video shooting in OnePlus 7 Pro was recognized as the best among all tested flagships, according to the results, it even surpassed Huawei P30 Pro. DxOMark praised the subject for optical stabilization, fast and accurate autofocus, high detail and sharpness, white balance and exposure. All this when shooting handheld when walking. In more difficult conditions of video recording, the picture noticeably shakes.
The OnePlus 7 Pro front camera got 86 points. Among the advantages are noted natural color reproduction, the absence of noise and artifacts with sufficient illumination of the scene, high detail when placing the object near or at a small distance from the lens. In addition, experts liked the quality of the flash (here it is on-screen), and it was also recognized as the best on the market. But stabilization is not perfect and when walking there are vibrations in the video. The bokeh in the photo is not bad and natural, but sometimes digital artifacts appear at the blur border. Another disadvantage in DxOMark was the lack of autofocus in the selfie camera, which is noticeable when creating group shots.