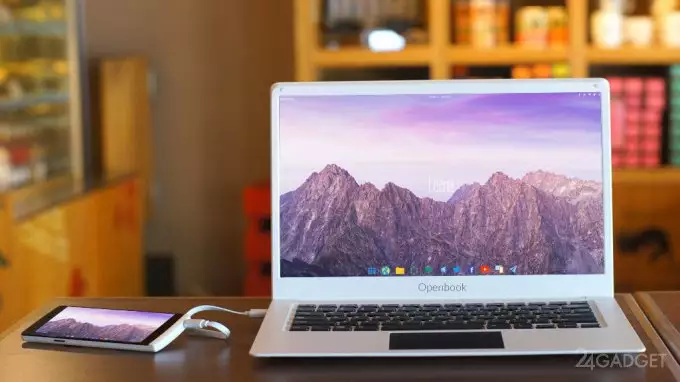 The new Openbook is equipped with a 14-inch screen with a resolution of 1366 × 768 pixels, a full-size keyboard and touchpad. Externally, the gadget is no different from a traditional laptop, but it works exclusively from mobile devices with an operating system of at least Android 5.0. With this product, the manufacturer is sure, most tasks will be solved faster and in more comfortable conditions than with a small smartphone display, say, in the office.
Often you won't need to charge the device – it has a 10,000 mAh battery installed on it. There is also a built-in microphone, a pair of speakers, a 3.5 mm headphone port, a microSD card slot and a USB connector with DisplayLink support.
Developers are sure that the new product will succeed: despite the fact that the size of displays on smartphones is becoming more and more every year, in some cases it is not very convenient to use them for typing, creating tables and graphs, and also for working with graphic files . To connect to the dock, just use the Desktop UI Pro application from the Google Play Store. The software will allow you to use mobile Android as a desktop operating system to work on a large screen. Dimensions of the product are 329 x 220 x 12 mm with a weight of 1.26 kg.
Pre-ordered OpenBook is offered for purchase for $ 129. Deliveries to customers will start in December this year.