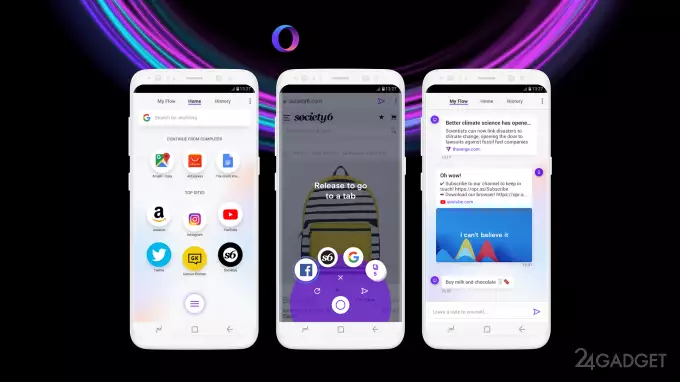 The company introduced a new mobile browser Touch, which is controlled with one hand. It was created for people using the browser while walking, riding in vehicles and eating.
All the basic elements of the browser are located in the reach of the thumb. At the bottom of the browser is the Fast Action button, which allows you to start a search, enter an address, open the last tabs, go to your favorites, close and refresh the page. Opera Touch also features voice search and QR and barcode scanning.
The Flow function will allow you to attach a smartphone to a computer, that is, a mobile version of a browser from a computer. To do this, you need to scan a QR code and you can send files, letters, notes, photos and other data to your computer. In addition, gadgets will completely repeat the tabs and settings of each other. Thus, starting to work on a computer, you can continue on your smartphone.
There is also an update to the desktop version of Opera, in which the Flow function is available. While Opera Touch is available only for Android-devices, but they promise a version for iOS.