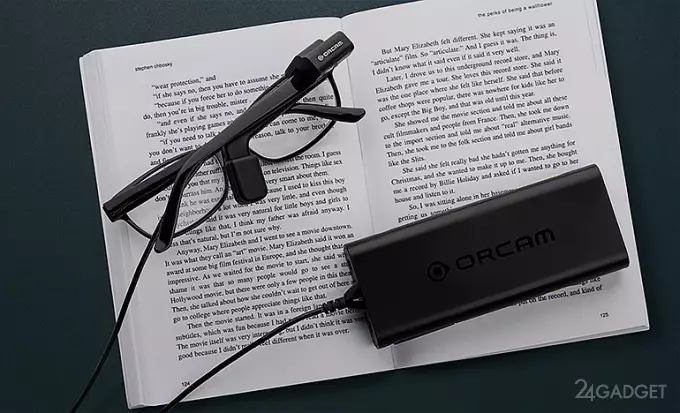 OrCam My Eye is a wearable device that converts visual information into spoken words, thereby helping visually impaired people navigate their daily lives. The product includes a miniature camera mounted on the frame of the user's glasses, an earpiece with bone conduction technology and a small box with a battery and a computer, which is attached to the lens with a cord. With OrCam you can read any printed text on any surface, including newspapers, books, a computer screen, restaurant menus, information on goods in stores and street signs. In addition, the device can recognize the faces entered in the database, as well as identify various consumer goods. OrCam uses optical character recognition (OCR) in combination with an algorithm called ShareBoost, which balances recognition accuracy with speed. To determine a familiar person, the product uses a face recognition system based on machine learning.
OrCam My Eye is activated by pressing a button or simply pointing your finger at the text. The battery capacity is enough for normal use during the day, after which it will take 4 hours to recharge. In standby mode, the device will work for 24 hours, after which its battery will have to be fully charged.
In a small clinical trial, the device was tested on 12 patients with visual impairment. Participants performed 10 different everyday tasks, including recognizing goods in a store, reading emails, newspapers, books, signs. For each successfully completed task, the subjects received one point. Without using OrCam My Eye, the average score for participants was 2.5 out of 10. With the help of assistive devices, such as glasses with magnifying glasses, the average score improved to 6. When I first met OrCam My Eye, the average score for a group of participants increased to 9.5 points, and after a month after the start of using the device, the indicator amounted to 9.8 points out of 10.
OrCam My Eye, developed in Israel, is currently able to process only Hebrew, English and German, but in the future it is planned to expand Eat this list. Another limitation to the purchase of the device is the cost, which is above $ 2,000.