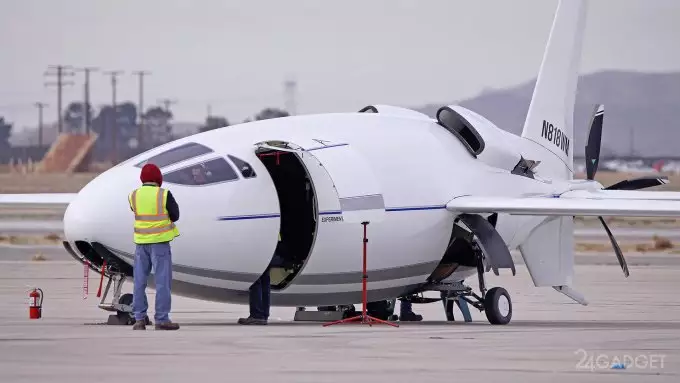 The American company Otto Aviation is preparing to test an unusual passenger aircraft made in the form of a bullet, with a rare propeller type and unique flight characteristics that distinguish it from its competitors. The network has already lit up photos of the prototype.
The news came from The Drive portal, according to the source, the plane looks somewhat futuristic: the body looks like a "winged bullet", and a pushing screw is located in the rear of the fuselage. In addition, the propeller gives unusual appearance to the aircraft.
Celera 500 L (this name was given to the aircraft) compares favorably with its competitors in that, developing a speed of up to 820 km / h at an altitude of 19.8 km, it has low fuel consumption, only about 4 liters per 48-68 kilometers of flight. This is up to 10 times more economical than all others. A plane can take off from any airfield, difficult weather conditions are not an obstacle for it. It was developed for commercial air travel.
The Celera 500 L aircraft can be used by private airlines to transport corporate clients. A comfortable lounge has a good time in flight. Only one pilot is needed to control the aircraft. The date of putting the Celera 500L into operation is still unknown.