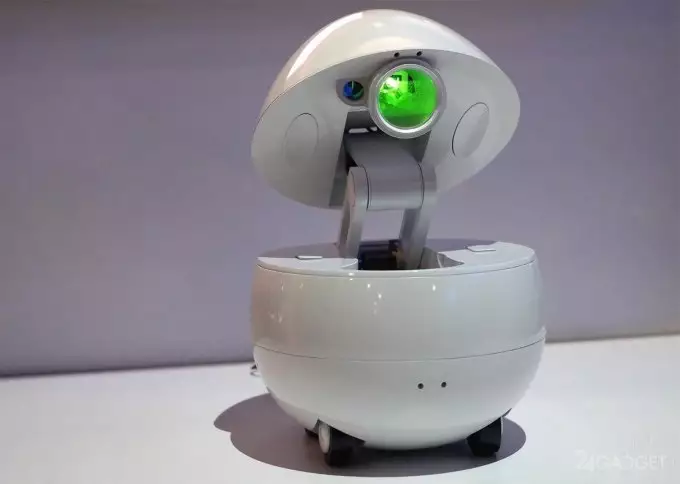 So far, manufacturers are only trying to create the most convenient, compact and yet useful robot-companion, the appearance and functionality of which would suit most consumers. Currently, many sketches of artists and designers are difficult to implement for a number of reasons, and yet companies are already striving to find the form factor that will be welcomed by the public. The Japanese company Panasonic has long been engaged in the development and production of robots, and the latest achievement is an egg-like desktop robot companion. He knows how to move at speeds up to 3.5 km / h and communicate with people in a childish voice, which, according to the manufacturer, will favorably affect the interaction of man and robot.
The size of a kitchen mixer (robot diameter is 290 mm, height – 485 mm, weight – 3.7 kg) Desktop Companion Robot will not take up much space in the apartment or on the table. Inside the baby, a Wi-Fi module is built-in, which allows you to access the natural speech processing service using artificial intelligence technologies, as well as download useful information and remotely control smart technology. The built-in projector will help in distance learning and in other areas of life.
The desktop companion robot is equipped with a quad-core ARM Cortex-A53 processor running at 1.2 GHz under UNIX control, a WVGA + resolution projector and a brightness of 50 lumens, an 8 megapixel camera, five infrared sensors, a 600-mAh battery and a 600 mA battery, a battery with 600 mAh, a battery with 600 mA 6-hour work of the robot, Wi-Fi and Bluetooth. The presented prototype is intended to demonstrate the latest achievements of Panasonic in such areas as the development of batteries, machine vision and sensors, navigation and motion control systems. When the robot appears on sale and what will be its cost, not reported. Of the languages for communication, only English is available.