The address book on a modern device is not just a telephone directory, but a rather functional contact file containing e-mail addresses, links, social profiles, call options and other information about people. In this case, each entry can be accompanied by a photo of the subscriber.
It is very convenient to use a photo or other image as a kind of avatar for each contact, because it will be used not only in the address book, but also for making calls, communicating via FaceTime, iMessage, SMS, etc. It is quite easy to set up personal images, and you can do it in different ways.
Are there any restrictions on using a photo in a contact card?
Yes.
You can use images in JPEG, BMP, PNG, GIF formats as a contact picture;
The maximum size of a photo used in a contact card must not exceed 224 KB.

To learn more about existing iCloud limits, click here.
How to take a Contacts Photo when calling the full screen iPhone
Open the Phone application, go to the Contacts tab, and find the contact you need;
Click "Edit" in the upper right corner to proceed to edit;
Touch "Edit" above the contact's name and last name;
Click All photos to select a photo from the Photos application or take a photo from the camera of your device by clicking the camera image button;
Select a photo, shift and zoom if necessary, select a filter and click "Done".
That's it! Now when you call the iPhone, the photo will be displayed on the full screen.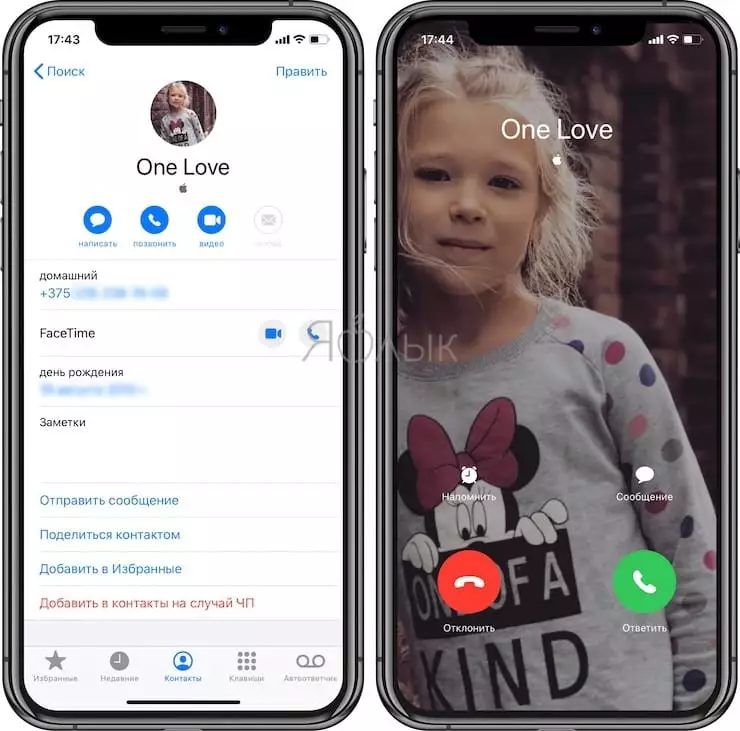 How to take a Photo of a contact when calling the full screen iPhone on your computer
Go to iCloud.com and login with your Apple ID;
Go to Contacts; your contacts must be synchronized with iCloud. You can do this by following these instructions.
Select the desired contact and click "Edit";
then click "Add photo" (just drag and drop the desired image) from any folder on your computer to the window that appears and click Done.
Note that older versions of iOS don't support displaying contact photos full screen when you take incoming calls. If, for example, an iPhone with iOS 9 installed (and newer) does not display the caller's photo on the screen, it is likely that too small images were installed as personal photos. In this case, you should delete them and add new, larger pictures.