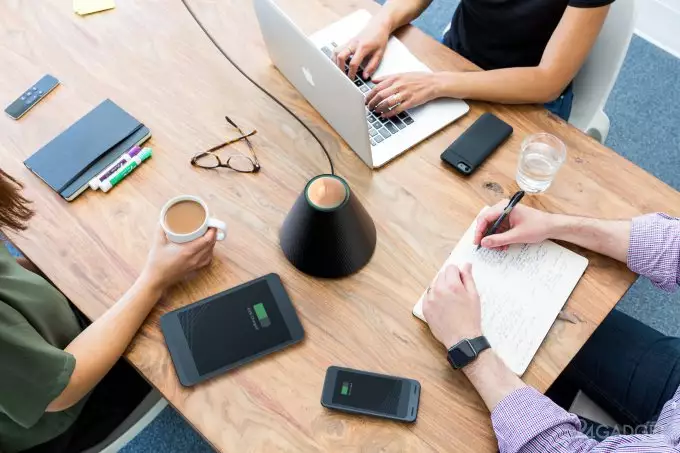 Wireless charging technology is very popular all over the world, however, all contactless chargers still require physical contact with smartphones, by placing the latter on a special platform. To create, indeed, a non-contact method of charging mobile gadgets at a distance of 30 cm from the charging station was able to a group of researchers, united in a startup Pi.
The appearance of the contactless charger is a rather elegant and small-sized truncated cone, placing smartphones or tablets around it, users can recharge the batteries. The range of the Pi Charger does not exceed 30 cm (12 inches). The principle of operation of an innovative product is based on resonant induction technology with the formation of a beam directed towards the charged object.
By placing up to 4 mobile gadgets around the Pi Charger, users can recharge them with a maximum power of up to 10 watts. True, during the presentation, charging of four smartphones and one tablet was demonstrated. According to the inventors, an increase in the number of energy-powered devices reduces the efficiency and speed of such charging, although interaction with more than 4 devices is allowed.
All mobile devices that support the Qi standard will be able to take advantage of the capabilities of Pi Charger. Among these smartphones can be noted Samsung Galaxy S8 / S8 Plus / Note 8, iPhone 8, iPhone 8 Plus and iPhone X. For gadgets that do not support Qi technology, the delivery of special cases.
Startup Pi was created by immigrants from the computer science laboratory of the Massachusetts Institute of Technology and artificial intelligence, otherwise known as CSAIL. Since MIT has strong traditions associated with the Pi number (3.141592), the inventors decided to name their startup by the name of a known number. By the way, the first 314 users will receive a discount of $ 50. At the moment, the company has already received $ 3.5 million of investments and plans to introduce chargers to the market in 2018 at a price that fluctuates around $ 200.