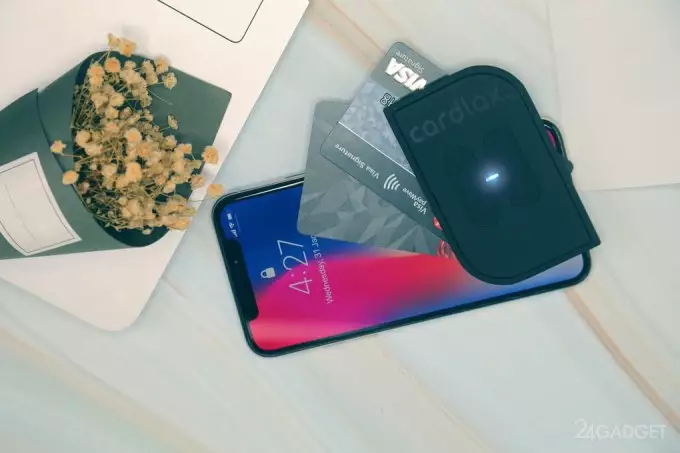 Most modern massagers are quite cumbersome. And they work from the electric network. So taking them with you to training or to the office does not work. Cardlax simply does not have these shortcomings: it is very small, weighs almost nothing and fits in your wallet or pocket.
The massager is extremely compact. It is made in the form of the thinnest plate the size of a credit card. With the help of electrical stimulation, it relieves tension in the muscles and allows you to relax in any environment and at any time. The front panel is minimalistic. It has only a control button and an LED operation indicator. On the back there is a pair of electrodes with a gel pad. The latter improves conductivity and helps the massager to gain a foothold.
Influencing the muscles, Cardlax stimulates them with electrical low-frequency pulses of 18 to 50 hertz. The gadget has several operating modes, differing in the degree of impact from an effect similar to pressing with an elbow to the slightest tingling. Each allows you to additionally change the frequency of the pulses.
The device can be configured using the buttons located on the case or through a mobile application. The latter is synchronized with Cardlax via Bluetooth 4.0. The gadget has a built-in 140 mAh battery, its charge is enough for 10 hours of operation. You can recharge the device using a standard microUSB cable. On Kickstarter, the Pocket Cardlax massager, which has dimensions 85x51x4.7 mm and 3 gel inserts in the kit, can be ordered for $ 39. Shipment of the first shipments will begin at the end of summer.