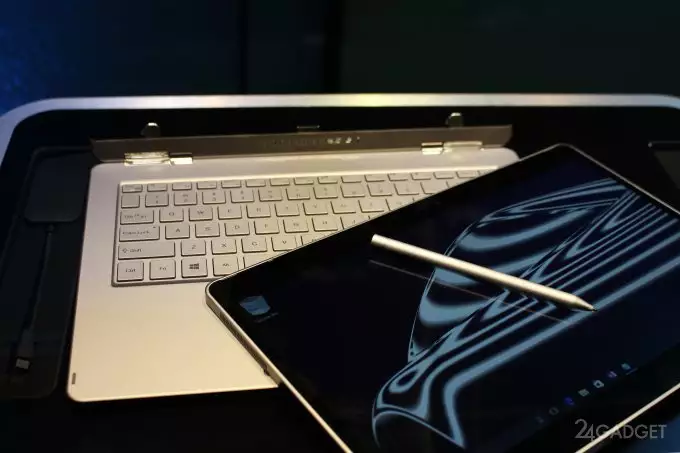 Porsche Design at the Mobile World Congress 2017 in Barcelona from February 27 to March 2, announced the Book One premium hybrid notebook, which is very similar to Microsoft's Surface Book. There are not so many differences between the models and future competitors: the similarity in appearance, the screen rotating around its axis by 360 °, the magnetic way to attach the stylus to the end of the device, the hardware component – all this brings Book One to Surface Book. That's just the hinge mechanism of the new product is better, since when folded between the parts of the product there is no gap. And the display part at the touch of a button can turn into a full-fledged tablet computer.
Porsche Design Book One is equipped with a 13.3-inch QHD resolution touch screen (3200×1800 pixels), Intel Core i7 processor, Intel HD Graphics 620 graphics, 16 GB RAM, 512 GB USB Type-C SSD, two USB Type-C SSD drive, two USB Type-C SSD drive, 512 GB and 2xUSB 3.0, USB Type-C with Thunderbolt 3 support, a microSD card slot, a 5 megapixel camera, a Wacom stylus, LED-backlit keys and Windows 10 Pro. An infrared camera can be used to identify when entering the system. The weight of the device is 1580 gr., Tablet part – 758 gr. Dimensions 311.4×226.5×15.9 mm and 311.4×209.5×7.7 mm, respectively.
Quanta, which built Amazon Fire tablets, was also involved in the development of the Porsche Design Book One. The manufacturer has not yet announced other technical parameters of the new product. A convertible laptop will be available from April this year at a price close to the cost of the basic version of the Surface Book i7 – $ 2,495.