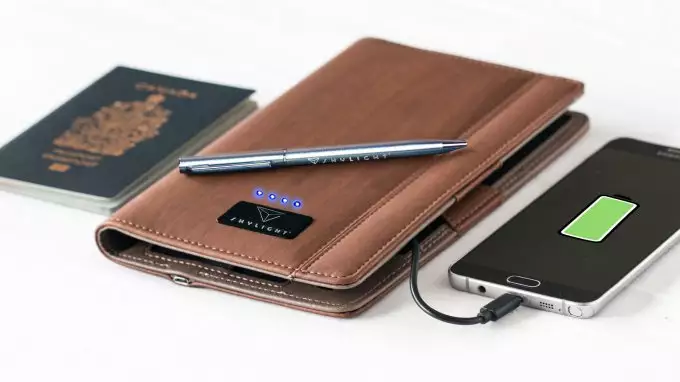 A practical wallet that can hold your passport, money, plastic cards and even tickets is useful both at home and when traveling. However, in spacious organizers there is no place for a powerbank with a smartphone. They have to be inconvenient for carrying in pockets or bags. However, an organizer created by Skylight solves this problem.
iTravel Smart Wallet is an accessory for travelers with a very speaking name. It looks like a regular leather wallet. However, the manufacturer built a portable battery into it, hiding ultrathin batteries in the cover.
On the left side of the novelty there are special pockets for money, cards and documents. On the right are the adapter for USB Type-C, the smartphone's built-in power cable, a holder for it, as well as a clip for wired headphones. The cable plug is universal and suitable for any device – both on Android OS and Apple. In other words, the iTravel Smart Wallet has been made compatible with all current smartphone models.
The wallet set was supplemented with RFID-protection pocket with cards and pen. The cover on the outside is equipped with LED indicators that indicate how charged / discharged the built-in battery is. The wallet is powered by a traditional adapter for smartphones.
Skylight's iTravel Smart Wallet is available for $ 60. You can choose a novelty from three colors, as well as a special version of carbon fiber. The latter, however, will cost $ 20 more.