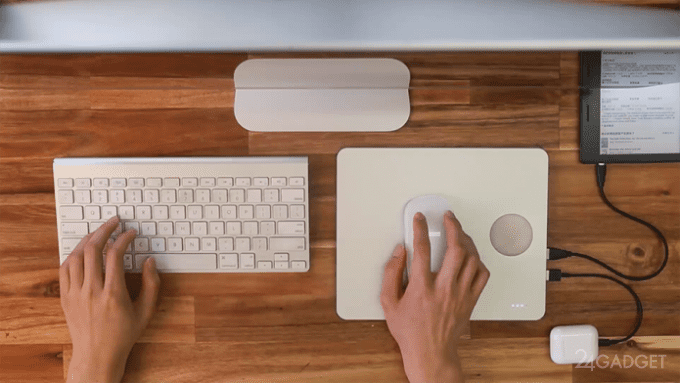 The new gadget, almost taking up space on the table, can charge wireless mice, smartphones, tablets and laptops. Agree, the most annoying feature of a wireless mouse is the need to charge it from time to time. Batteries are always discharged at the most inconvenient moment. PowerDock should deal with this problem.
This is a gadget style metal plate in Apple style. The thinnest case contains not only a power bank, but also a docking station, as well as wireless charging functionality. It is enough to install the device on a table, connect a laptop to it, put a smartphone with a wireless mouse on top, and connect a tablet nearby. All of these devices will charge at the same time!
The capacity of the battery built into PowerDock is 10,000 mAh. The gadget also has 1 Micro-USB connector, 1xUSB-C and 3xUSB-A. This allows you to connect absolutely any device to PowerDock. And you can carry it in any compact bag, for example, along with a laptop.
Made of aluminum, the stand looks pretty stylish. It is charged using Micro-USB or USB-C. By pre-order, the cost of the gadget is $ 69. Sell the device will begin at the end of this summer.