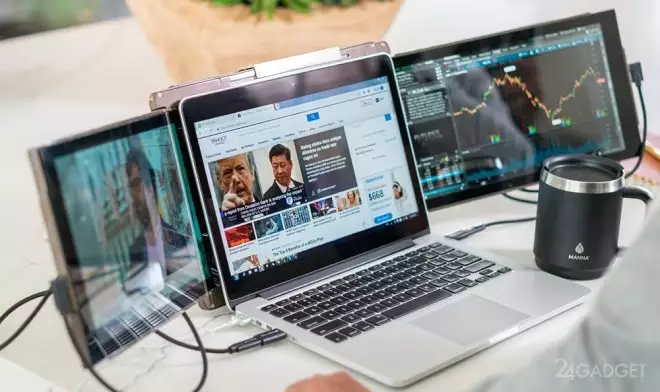 In the conditions of fierce competition, manufacturers of modern laptops seek to diversify new models with various functions that expand the capabilities of users. A year ago, startup Mobile Pixels raised funds for the Duo project, a laptop device with an optional retractable screen.
Over two million dollars were raised at two crowdfunding venues Kickstarter and Indiegogo and the production of devices under the Duex brand was launched. Users warmly made such a decision and expressed a desire to increase the number of additional screens to two. So the idea of a device for a laptop under the Trio brand was born.
The Trio design is a rigid frame mounted on magnets to the back of the notebook cover. Additional displays are mounted on the frame using various brackets that allow you to rotate the screens changing position from landscape to portrait, to rotate the display plane at different angles to the user. Each screen can work separately, or can be turned off if necessary. Monitors desktop automatically adjusts to a specific screen position. The Trio model can be used with 13 and 14 inch laptops, connecting two additional displays with 12.5 inch diagonals. The resolution of each additional monitor is 1080p. Weight – 680 grams.
Trio Pro is designed to expand the capabilities of laptops with a diagonal of 15 – 15.6 inches. The high-end device series adds two 14-inch Full HD resolution screens.
All connections in the device are via USB ports. Screens connect to the frame, and the frame connects to the laptop.
Pre-ordering the Trio model for 12.5-inch secondary screens will cost $ 179. Two monitors can be bought for $ 349. The Trio Pro is priced at $ 199, and two additional 14-inch screens cost $ 389. The start of production of devices is scheduled for early 2020.