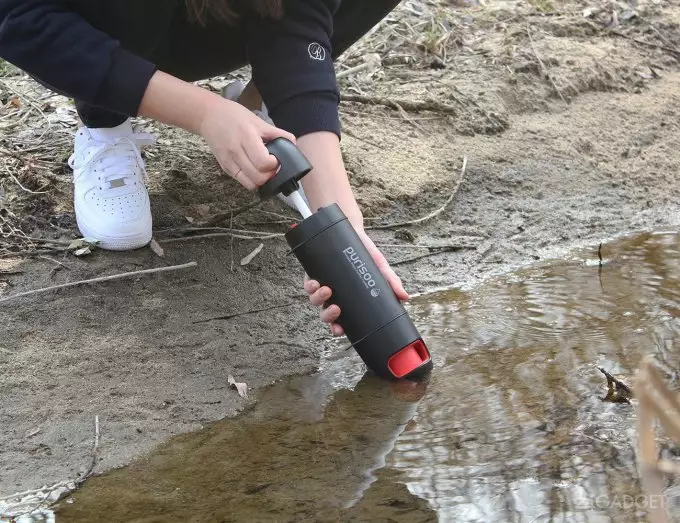 Too long a trip to stock up with enough clean water is simply unrealistic. It will be impossible to take it away. Modern filtration systems can help out, but not each of them is compact enough, versatile, and productive. But there is Purisoo, possessing all these advantages. The filter is made in the form of a sports bottle. It takes up little space, you can take a little clean water with you, and if necessary, the built-in triple purification system allows you to replenish supplies from any source in nature: a forest lake, stream or even a puddle.
Purisoo includes several basic components: • a filter that is built into the base • at the top is a hand pump • in the middle is a tank for clean water.
Water is purified immediately after it is collected from the source, simply pumping through the filter. It is enough to make the pump a few movements, and the bottle will be full of clean water, which you can drink immediately. The filter purifies water from everything: rust, harmful bacteria, heavy metals and any other contaminants. The resource of the filtration element is 1000 liters. The built-in reservoir of the gadget holds 410 milliliters of liquid. Purisoo is equipped with an extension tube adapter. You can also order small bottles for storing purified water.
Kickstarter has already raised the funds necessary for the commercial implementation of the project. The basic kit is offered for purchase for $ 69. The first orders will begin to be sent from mid-summer of this year.