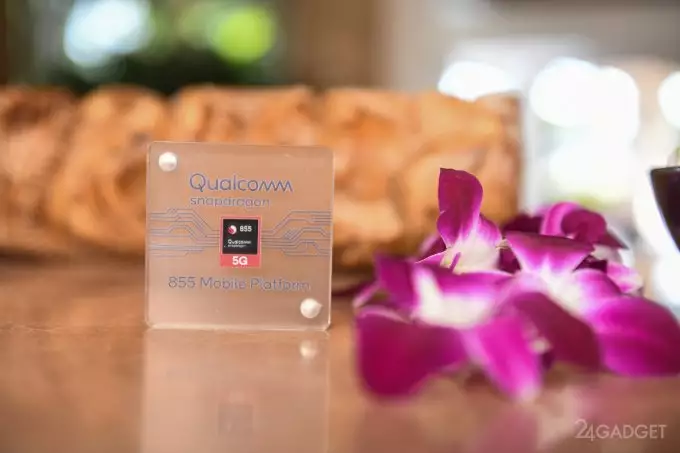 Qualcomm introduced the flagship mobile processor Snapdragon 855 at the Snapdragon Technology Summit conference. The new single-chip chip, made using the 7-nanometer process technology and a three-cluster system, will support multi-gigabyte 5G, artificial intelligence and augmented reality algorithms, as well as advanced gaming capabilities thanks to Snapd technology Elite Gaming The
Qualcomm Snapdragon 855 consists, like its predecessor, of 8 cores divided into 3 clusters: four energy-efficient Kryo Silver cores operate at 1.78 GHz and are responsible for routine tasks, three multi-tasking Kryo Gold cores operate at 2.42 GHz to support resource-intensive applications, another core of Kryo Gold Prime is high-performance with a clock frequency of 2.84 GHz, it will work where others can not cope. For gaming capabilities and graphics meets the Adreno 640 controller with proprietary Snapdragon Elite Gaming technology, the nuances of which the company will reveal later. The fifth generation mobile network is supported by the Snapdragon X50 5G modem with the promised connection speed of up to 2 Gb / s. It is stated that even with impressive loads, the Snapdragon 855 can remain energy efficient and will not heat up, while maintaining the speed of software and applications.
The new top-end processor hardware supports built-in sub-screen fingerprint sensors, and the device will be unlocked even when the protective film is glued on the display or the user's finger is wet or dirty. Unlike analogues of other manufacturers in the form of optical sensors, Qualcomm's ultrasonic biometric fingerprint scanner has greater reliability, as it scans the skin texture with sound waves. Outwitting it with a photograph of the fingerprint will no longer work (this statement will most likely be decided by many video bloggers to confirm or deny the words of the company).
A high-performance neural computing unit (NPU) has also been announced, the speed increase of which has doubled. At the level of and support for virtual, as well as augmented reality. Processing captured photos, videos and gameplay is performed literally on the fly. The co-processor for processing images Computer Vision will provide decent shooting in low light conditions.
Mobile top chipset Snapdragon 855 (the name Snapdragon 8150 was still only working) will appear in many flagship smartphones in 2019. The first fifth-generation commercial chains will begin operations in the first half of next year in the United States, Europe, South Korea, China, Japan, and Australia.