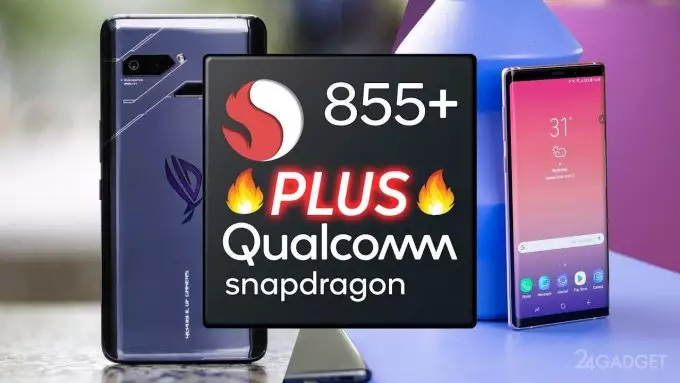 Qualcomm, the maker of SoC, has announced the release of its flagship Snapdragon 855 Plus mobile platform. From the name of the development it follows that we are talking about some improvement in the regular version of the 8-octa-core Snapdragon 855, made using the 7-nm process technology. The novelty has one extremely powerful Kryo 485 core, based on the ARM Cortex A76 and clocked up to a clock speed of 2.96 GHz. In the usual modification, the maximum mark of this indicator reached 2.84 GHz. Other development cores have not changed – these are four Kryo 385 cores overclocked to 1.8 GHz, and 4 Kryo 485 cores overclocked to 2.42 GHz. In addition, the new chipset overclocked the performance of the Adreno 640 graphics processor. Due to this, its power increased relative to the Adreno 640 from the Snapdragon 855 by 15%.
The novelty will be available with both the Snapdragon X24 multi-gigabit LTE modem and the Snapdragon X50 modem for 5G networks. In addition, the manufacturer announced enhanced support for virtual and augmented reality through the use of the fourth-generation Qualcomm AI Engine. Other characteristics of the model remained the same.
The first owner of a fresh SoC will be the gaming smartphone ASUS ROG Phone 2. They plan to present the new product on July 23 in China. There are also suggestions that the Snapdragon 855 Plus will be installed in the Samsung Galaxy Note 10, Google Pixel 4/4 XL and other flagships, the official announcement of which is scheduled for the second half of 2019.