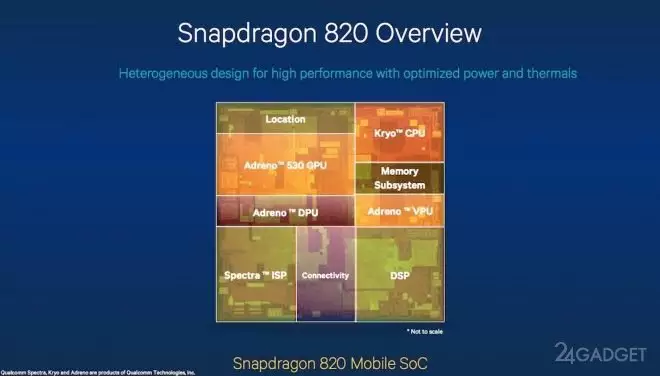 As promised last week, Qualcomm talked about all the details regarding the new flagship Snapdragon 820 processor. We already learned that the chip is made using the 14nm or 16nm process technology and is equipped with four Kryo 64-bit cores made by FinFET technology.
Now Qualcomm told details about the graphics subsystem of the Snapdragon 820. As it became known, the new processor uses the Adreno 530 graphics accelerator with support for OpenGL 3.1 and the new graphics standard Vulkan, which can improve the quality of graphics on mobile devices.
Qualcomm says that the Snapdragon 820 provides 40 % greater productivity compared to its predecessor and reduces energy consumption by 40%. Also, the new processor has an autonomous power manager for the graphics accelerator.
Other features of the Snapdragon 820 include HDMI 2.0 support and 4K picture output at 60 frames per second. Moreover, with the help of wireless interfaces, the new chip allows you to transmit 4K-video at a frequency of 30 frames per second. In addition to the improved graphics subsystem, the Snapdragon 820 uses an updated image processing processor, which allows you to create better photos using cameras with a small pixel size and in conditions of insufficient lighting, as well as supporting hybrid autofocus. As with the Snapdragon 810, the new Snapdragon 820 supports up to two main cameras, but now they can have different focal lengths, so the optical stabilization effect will be achieved programmatically. It is expected that the first devices running the Snapdragon 820 will appear in the first quarter of next year. .