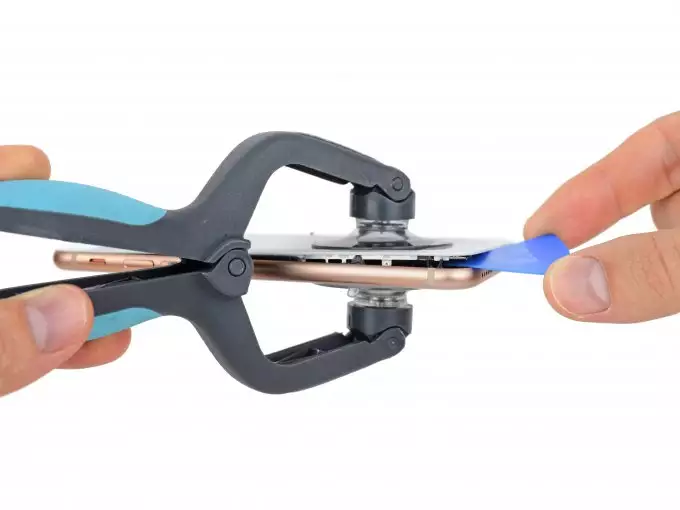 iFixit specialists in an effort to quickly assess the maintainability of the new iPhone 8 arrived in Sydney (Australia), where Apple started selling new products. As a result of disassembling and analyzing the components of the iPhone 8, 6 out of 10 points were assigned, which is one worse than the repair ability of the iPhone 7 and iPhone 6, which previously received 7 points. However, the iPhone 8 score is much better than that of its closest competitors: Samsung Galaxy Note 8, which showed four points in the iFixit tests and Essential Phone, which "flashed" by one.
When disassembling, which traditionally started with X-raying of the smartphone, iFixit came to the conclusion that the internal design of the new model is almost identical to the location of the components in iPhone 7. Having removed the front surface with the display, specialists got to the battery with a capacity of 1821 mAh, which is less than the \
The Lightning port inside was painted in gold, the color of the main body. Perhaps the developers of the iPhone 8 used special plastic with high thermal conductivity, which helps to avoid overheating of the device during wireless charging.
The metal frame was slightly wrinkled when disassembling the six-layer rear window. The complicated process of disassembling the back surface, as well as the difficulty in accessing some details, led to a decrease in the maintainability rating of iPhone 8. At the same time, iFixit noted that the most common thing in smartphones is the consumer changes the battery or display, and these components in iPhone 8 change without problems. Good body rigidity and build quality were also noted.
However, according to new prices, replacing the front glass with the extended improved warranty AppleCare + will cost only $ 30, while replacing the rear window is already $ 100. For a full replacement you will have to pay $ 350 for the iPhone 8 and $ 400 for the iPhone 8 Plus, that is, almost half of the initial cost of the smartphone. Note that the aforementioned official insurance does not cover all cases of rear window replacement. Therefore, even if you pay an additional $ 130 for it, there is a chance that you will have to pay $ 350 for replacing the rear window.
, appleinsider.com