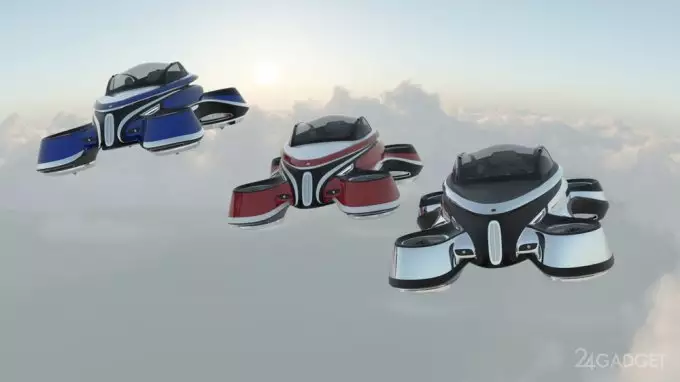 Judging by media reports, the era of flying cars is just around the corner, and while the engineers of these miraculous machines are struggling to solve technical issues, the Italian designer Pierpaulo Lazzarini began to develop a hovercraft concept, according to which a flying vehicle created on the basis of modern technology would resemble the look of a retro model released at the beginning of the 20th century.
Lazzarini Design Studio is guided by the principle: when thinking about the future, do not forget about the past. The designer himself proceeds from the fact that any technical innovations require considerable costs, and therefore only wealthy people can afford such a status thing. If in the last century limousines that just appeared were such status things, then the first flying cars should be not only beautiful, but also incredibly luxurious.
The inspiration was for Lazzarini the design of the legendary Italian car Isotta Fraschini, model Tipo 8. In the 30-40s of the 20th century, it was the standard of luxury in the automobile world. Therefore, it is no coincidence that the Hover Coupè concept is made in the same color scheme and has similar body contours. However, the designer also had to take into account the aerodynamic profile and the need for enhanced protection of the working propellers compared to the wheels of the legendary prototype.
According to Lazzarini, creating a hovercar is not a problem: just take airplane turbo engines, reduce their size so that it approaches the diameter of the car wheel, attach it to the body – and in flight!
Design studio Lazzarini is often criticized for projects that seem impossible to put into practice. However, after the launch of the Jet Capsule mini-yacht with its design, the interest in the master's work increased and moved to the practical plane. The future will show whether the hovercar presented by him will fly.