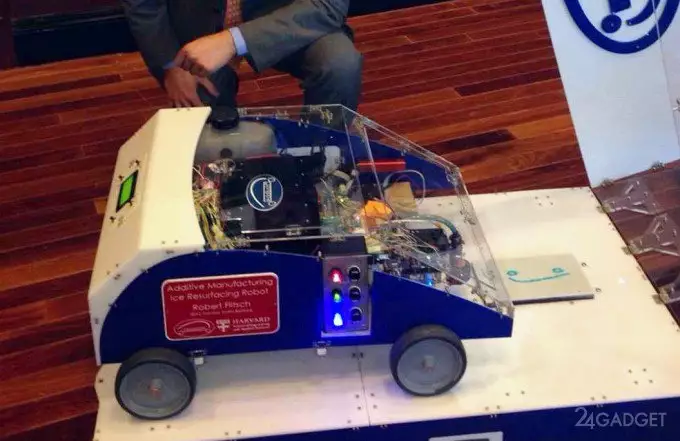 The range of applications for 3D printers has become quite extensive. With the help of new technology, they create not only confectionery, fashionable clothes, cases for robots and mobile devices, dental implants, parts of human bones, parts for the launch vehicle engine, and also build houses and bridges. Addibot startup specialists are planning to use the technology in a new field – the road. But in their opinion, a robotic 3D printer made in the form of a machine will be able to move along the established route and repair the pavement, closing cracks and potholes of any scale.
Currently, Addibot engineers have created a prototype of Ice Resurfacing – a unit that repairs damaged ice on ice rinks. The machine is equipped with a water tank, a pump and a heat exchanger for cooling the liquid to an indicator that almost reaches the freezing point. As soon as the water reaches the desired temperature, it is applied to the damaged area of ice, upon contact with which it freezes in 700 milliseconds.
In the future, Addibot specialists plan to adapt the installation for its use as road equipment. The authors of the project see in their development a promising direction in the development of the industry. For example, in the future, the pavement may be printed from carbon fiber materials, which will give the road additional strength. In addition, the technique can be created for different directions – from the application on personal plots to create garden paths, to the use of large installations for laying completely new tracks.