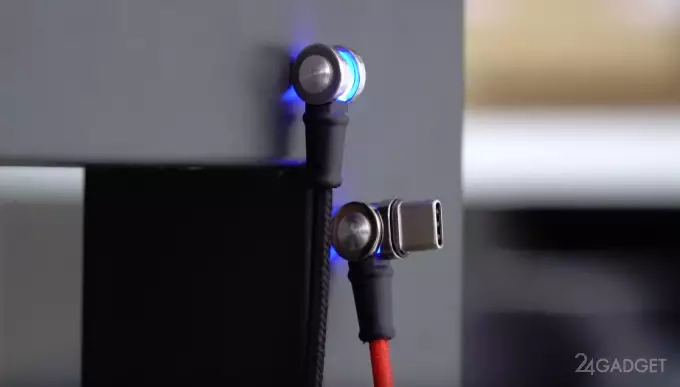 Users of modern gadgets have long been accustomed to charging cables, which are magnetized to the smartphone connector, they have long been available on AliExpress. But the wire that attracts your smartphone, but with a rotating tip that can support the weight of your gadget, is now available on Indiegogo. The cable is universal in that you can charge any smartphone through it. The kit includes three interchangeable plugs: microUSB, Lightning and USB Type-C. Suitable for your smartphone, you can insert it into the gadget's connector and leave it there on an ongoing basis.
By closing the input jack, the plug will not complicate the use of the smartphone, but at the same time it will serve as a kind of port plug from the penetration of dust into the gadget. If you bring the tip of the wire closer to the plug, he himself will be powerfully attracted to the smartphone, starting charging. The hitch is so strong that the phone can easily be lifted by this cable. The magnet rotates 180 °, which allows you to connect two gadgets with different connectors.
It is rare to meet a person who would not be annoyed that at the most crucial moment his charger is lost. When the cable described by us is not used, it can be fixed in the most accessible place on any metal surface so that it is always at hand, and the LED indicator will allow you to quickly find it even in the dark. The wire will never get tangled, will not break at a break – this will be prevented by a reliable external braid. The length of this accessory is 1.8 meters. The price of the wire is $ 16 (≈1,050 rubles), they offer a discount for a couple of wires: such a purchase will cost $ 26 (≈1,700 rubles). Ordering can be done on the Indiegogo website.