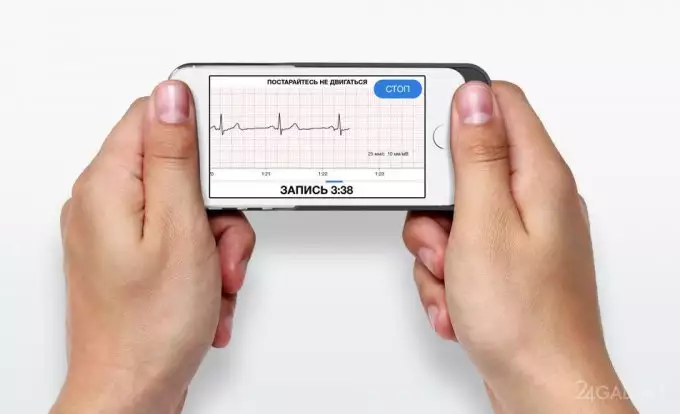 Fighting cardiovascular diseases in Russia with the help of modern but already familiar equipment is becoming insufficient. The rapid development of new technologies requires the use of innovative devices that can improve both the process of diagnosing a disease and treating it at different stages. The implementation of such achievements of modern technology in medical practice was attended by the Shvabe Holding of Rostec State Corporation, the First Sechenov Moscow State Medical University and CardioKvark company, the result of consultations and decision-making of which was a memorandum of collaboration in this direction that they signed.
CardioQVARK mobile electrocardiograph is the embodiment of a number of advantages of a smartphone. Yes, and this device is made in the form of a cover for a smartphone. It is enough to put your fingers to special sensors and the cardiogram is removed. To study the obtained indicators, you should enter the accompanying application.
The most important advantage of this device is that it allows the patient to participate in monitoring the work of his heart, to independently take an ECG at the time necessary for him, to automatically send the results of such a study of his heart to the attending physician and receive online consultation from him.
Three participants in the memorandum, Rostec, the Schwab holding and the CardioKvark company, will produce such personal devices for online monitoring of not only the heart, but also the blood vessels. By agreement, IM Sechenov Medical University will train medical and technical specialists who can work with such devices.
The use of the CardioQVARK mobile electrocardiograph will be carried out in medical practice at the federal level. The telemedicine service will receive another technical innovation in improving medical services for the population of our country. The market value of the development and terms of implementation are not reported.