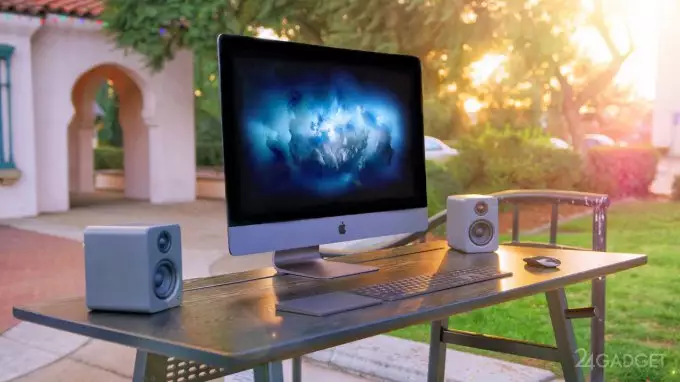 Announced back in June at WWDC 2017, the most productive iMac Pro all-in-one in Apple's history went on sale only on December 14, both in Russia and around the world. All this time, the cost of a computer for Russians remained secret. From today, the price is known, and it starts at 379,990 rubles.
Powerful iMac Pro copes with complex 3D-graphic tasks, works with video files and photo materials, which is why the name of the prefix "Pro" appears. The basic version of the all-in-one with a 27-inch 5K-resolution display (5120×2880 pixels) is equipped with an eight-core Intel Xeon processor with a frequency of 3.2 GHz (4.2 GHz in turbo mode), a Radeon Vega graphics card with 8 GB graphics memory, 32 GB of DDR4 ECC RAM with a frequency of 2666 MHz and 1 TB of memory on an SSD drive.
But if such specifications seem insufficient, Apple still has versions with 10-, 14- and 18-core Intel Xeon processor. The buyer can assemble his own candy bar, choosing a processor, video card, RAM and SSD. It is proposed to choose an AMD Radeon Pro Vega graphics system with 16 GB of internal memory HBM2, SSD with a capacity of 4 TB, RAM for 128 GB of DDR4 ECC 2666 MHz memory. Apple versions cost $ 5799, $ 6599 and $ 7399 for PCs with 10-, 14- and 18-core Intel Xeon processors, respectively. Apple iMac Pro in the maximum configuration will cost about $ 13,000.
The Apple iMac Pro case is made of dark gray metal, called "space gray". The monoblock is equipped with a Magic Keyboard and Magic Mouse 2 of the same color scheme. Apple iMac Pro can already be ordered, the delivery time from the official online store for variations with an 8-core Intel Xeon processor is 1-2 weeks. The most productive versions of a computer with 10-, 14- and 18-core Intel Xeon chipsets will have to wait 6-8 weeks (there is no option with a 14-core Intel Xeon on the Russian official website of Apple).