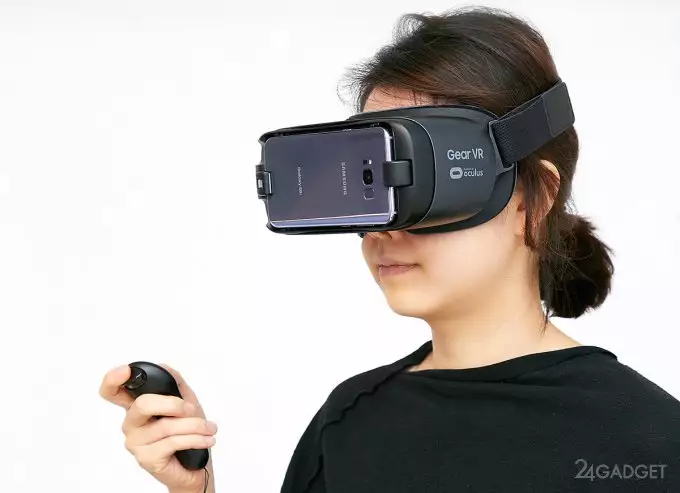 An updated Samsung Gear VR virtual reality headset equipped with an Oculus controller was first shown to the public in February at MWC 2017. Since then, the accessory has not undergone any changes.
Gear VR helmet is equipped with lenses with a focal length of 42 mm and a viewing angle of 101 ° with improved correction technology that reduces the uncomfortable effect of motion sickness, there are micro-USB and USB Type-C ports. The device operates on two AAA-type batteries, while 1000 mAh is enough for 40 days with 2 hours of daily use. The novelty is compatible with smartphones Galaxy S8, Galaxy S8 Plus, Galaxy S7, Galaxy S7 edge, Galaxy Note 5, Galaxy S6 edge Plus, Galaxy S6 and Galaxy S6 edge.
The appeared controller is compatible not only with the updated helmet model, but also with its previous version. Now the user does not need to control the device settings by touching the buttons on the Gear VR case (but they still remained there). For this, a wireless remote control is created, based on Oculus technology. The accessory is controlled with one hand. The product is conveniently placed in the palm of your hand, making it possible to use the round trackpad, trigger and home, volume + -, and back buttons during VR travel and games. According to journalists who were given the opportunity to try out the updated VR headset, shell Oculus Home is better. Now it loads faster, the text is clearer and easier to read, the interface has become more convenient. In addition, a browser appeared in which there is no difficulty with the perception of information.
An updated version of Samsung Gear VR will go on sale on April 21 at a price of $ 129. The cost of the wireless controller will be $ 39 (and not 99 euros, as previously reported). Samsung and Oculus promise to launch 20 applications optimized for the console by the start of sales, in the future the number of programs will increase to 70.