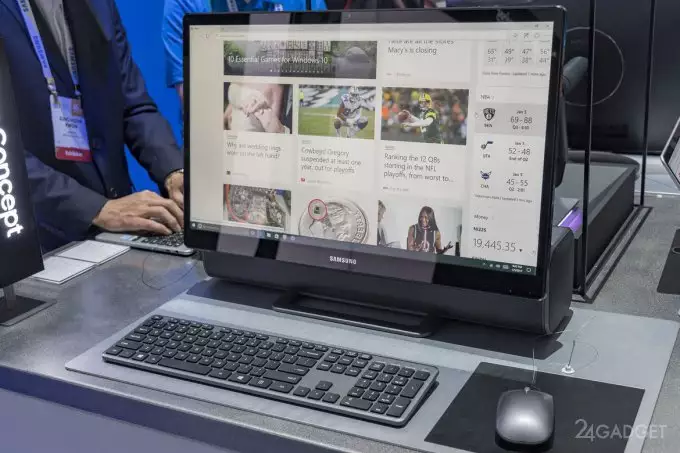 South Korean company Samsung has announced an all-in-one computer with Windows OS called All-In-One PC. Oddly enough, the manufacturer did not become wise with the name, but worked on the appearance of the PC. Samsung All-In-One PC has a built-in audio system, which is also the base stand of the computer. At the same time, the 24-inch Full HD display with a touch screen can be tilted and adjusted in height. The All-In-One PC is equipped with an Intel Core i5-7400T processor, integrated Intel HD Graphics 630 graphics, 8/16 GB of RAM and a hard drive on 1 TB (5400 rpm, unfortunately). If you want more RAM and storage space, according to Samsung, these figures can be changed. In addition, there is a slot for SD, SDHC and SDXC memory cards, USB 3.0, USB 2.0, HDMI-out, HDMI-in and audio ports.
The soundbar consists of two 10-watt speakers, and it can play music via Bluetooth, even when the computer is turned off. Also included is a full-sized wireless keyboard and wireless mouse.
Information about other characteristics of the musical candy bar is not yet available, as well as the date of its appearance on sale and the cost. Dimensions: 524.1 x 151 x 382.8 mm; weight: 8.8 kg.