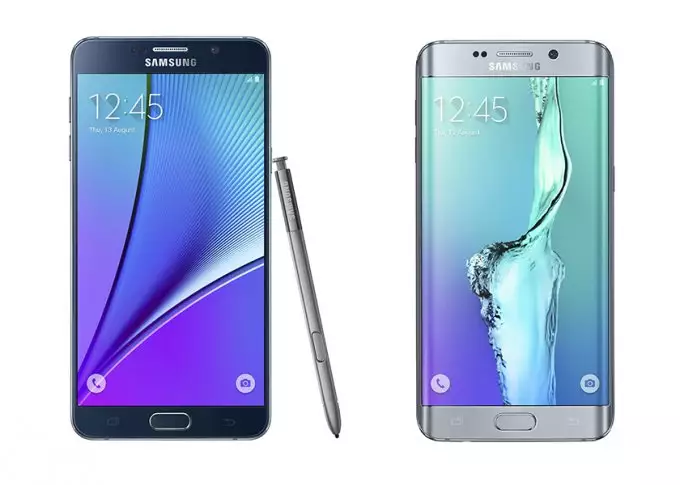 At the official presentation of the Samsung Galaxy Unpacked last night in New York, the Galaxy Note 5 tablet phone and the curved Galaxy Edge S6 Plus smartphone were announced. The first one lost a slot for memory cards and a removable battery, and the second received an enlarged display with a bend from both its edges.
The new Gear S2 smartwatch has also been announced. As expected, the design of the Galaxy Note 5 is dominated by the flagship Galaxy S6 motifs: the case has more metal and glass instead of plastic and artificial leather, as in the previous model of the Note line.
Most rumors have been confirmed. The diagonal of the Super AMOLED display of the Galaxy Note 5 is 5.7 inches, and its resolution is 1440 × 2560 pixels. The main camera is still the same 16 megapixels with optical image stabilization, while the front camera has grown to 5 megapixels. The new Note runs on an 8-core 2.1 GHz Exynos 7420 processor, like the Galaxy S6, equipped with 4 GB of RAM and a 3000 mAh battery. This is less than last year's Note, but the manufacturer promises that the device will charge faster: wireless charging is supported. Naturally, a branded stylus is available.
Variants of a smartphone with 32 and 64 GB of permanent memory will be available on the market. The Galaxy Edge S6 Plus also has a 5.7-inch display with a resolution of 1440 × 2560 pixels. These indicators have grown significantly compared to the previous model. A distinctive feature is the curved edges of the display on both sides.
In the curved smartphone, there is a processor from the Galaxy S6-OS with 64-bit memory and 64-bit operating system 64-bit. The battery is non-removable, but compared to the S6 edge, its capacity has grown to 3000 mAh. On the curved edge of the device, next to the People Edge icon with the latest contacts, the Apps Edge icon has appeared, providing access to quickly launch applications.
Swipe on it opens the latest running programs. Both new items can broadcast video from the camera to YouTube in real time. It supports 1080p at 60 frames per second. Like the Galaxy Note 5, a smartphone with a curved display will be available in versions with a memory capacity of 32 and 64 GB, in black and golden colors. Starting today, a pre-order for devices is open, and from August 21 they will go on sale in the United States.
At the end of the presentation, Samsung representatives showed the new Gear S2 smartwatch. But without the details. The main announcement of the device should take place at the IFA in Berlin on September 3.