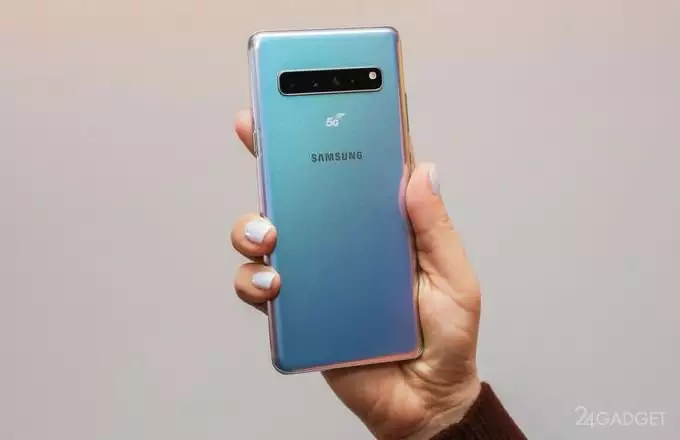 South Korean Samsung, during the presentation of new products at the Unpacked 2019 events, introduced a special version of the flagship smartphone Galaxy S10 5G, which fully supports fifth-generation (5G) mobile networks. The device has the largest screen among all the presented modifications of the flagship Galaxy S10 line.
Galaxy S10 5G received a 6.7-inch Infinity-O display. The hardware of the Galaxy S10 5G is represented by the top-end 7nm Qualcomm Snapdragon 855 chip with an X50 modem (there will be no version with Exynos 9820), 8 GB of RAM and 256 GB of internal flash memory. Given the huge display, the smartphone received a fairly capacious 4,500 mAh battery that supports ultra-fast charging with a power of 25 watts.
Galaxy S10 5G cameras in technical specifications and location are completely similar to the flagship Galaxy S10 +. On the front surface in a characteristic screen opening, a dual front camera of 10 and 8 megapixels is located. The main camera has three sensors: 12 megapixel with a wide-angle lens (f / 1.5-f / 1.9), optical stabilization and automatic focusing Dual Pixel, 12 megapixel with a telephoto lens (f / 2.4) and 16 megapixel with a wide-angle lens and a viewing angle of 123 ° ( f / 2.2). However, the Galaxy S10 5G has a Time-of-Flight (ToF) sensor that allows you to 3D-shoot or work in augmented reality using the Video Live Focus and Quick Measure features.
\The disadvantages of the model include the lack of a slot for microSD memory cards. The remaining specifications are the same as those of the Galaxy S10 +.
The first Galaxy S10 5G smartphones will be able to purchase customers from the United States in the networks of the mobile operator Verizon. For this company, the smartphone will be offered with a more capacious battery. The start date of sales was not disclosed, but experts are confident that the S10 5G will not appear earlier than the summer. The price of this model also remained unannounced.
, samsung.com-2