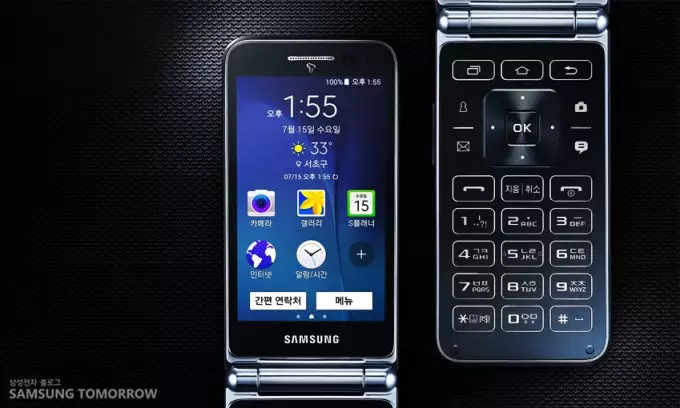 South Korean company Samsung did not keep up with its rival compatriot LG and also announced the release of the Galaxy Folder smartphone, executed in the clamshell form factor, running Android 5.1 Lollipop OS.
The novelty received a 3.8-inch touch screen with a resolution of 800 × 480 pixels and a density of 252 ppi, a quad-core processor with a clock frequency of 1.2 GHz, 8 GB of non-volatile memory, expandable memory cards with 128 GB, an 8-megapixel rear and 2-megapixel front camera, navigation GPS module, Wi-Fi adapter and removable battery with a capacity of 1,800 mAh.
The device is capable of working in 4G LTE networks. Unfortunately, the manufacturer did not disclose all the characteristics of the device. The release in South Korea will take place in August. Samsung Galaxy Folder will be available in two colors (blue and white) for about $ 250. Most likely, sales of the device will not go outside the country.