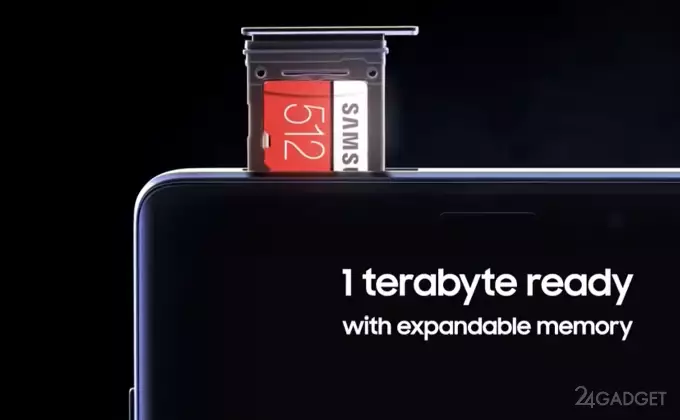 While presenting the flagship smartphone Galaxy Note 9, Samsung representatives promised the possibility of expanding the amount of internal flash memory of the new items to 1 terabyte. This goal was to serve as a microSD card. On the German manufacturer's website, it is already there, with an official price.
Samsung MicroSD EVO Plus 512 GB belongs to the 10th class and supports the UHS-I standard. The data transfer speed reaches 100 megabytes per second when reading and up to 90 megabytes per second when writing. The available volume is enough to store 24 hours of video recorded in 4K UHD, or about 150,000 photos. The card operates at temperatures from -25 ° C to + 85 ° C. Thanks to the IPX7 standard, it can be in salt water for up to three days. Added new SD-adapter.
So far, microSD EVO Plus is the most capacious memory card in the lineup presented by Samsung. In Europe, it will be sold for 290 euros. For comparison, a similar 256 GB card costs € 100, in Russia it will cost 5390 rubles. At the same time, the ultra-fast pocket-sized Samsung Portable SSD X5 with a capacity of 500 GB is available for $ 400, and the mid-range smartphone Galaxy A7 (2018) is offered for € 310. At such prices, it is much more profitable to take advantage of the offer from the manufacturer and purchase Galaxy Note 9 512 GB with a gift in the form of microSD 512 GB for 89 990 rubles.
, samsung.com