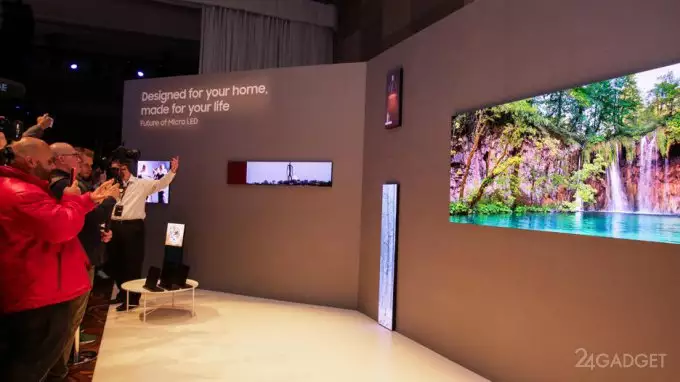 Samsung in an attempt to add variety to the line of TVs puts experiments on the matrices. At CES 2019 in Las Vegas, the manufacturer showed The Wall – a 219-inch TV with modular Micro LED displays. Serif TVs and The Frame TVs running on QLED were also presented.
Micro LED is a technology based on self-emitting LEDs installed as modules. Each pixel, or LED, glows independently of the others. This is an alternative to OLED, with several pluses, including black. According to the manufacturer, the Micro LED pixels do not fade and last much longer.
This design, due to its modularity, makes it possible to change the shape and color of the matrix. Over time, it will be possible, by purchasing modules, to adjust the size or shape of the screen right at home. He has no framework. So the user will be able to build his TV manually, adding screens like details from the Lego. The modules will allow you to assemble TVs not only standard, but in general any size, choosing a convenient aspect ratio. For example, make a square the size of the entire wall. Order this TV of the future will be possible this year. Its cost will depend on the number of modules.
As for the present, the flagships among the matrices in the Samsung line were quantum dots. Therefore, an update was presented to the Serif TV and The Frame TV line, now equipped with QLED displays.
The Frame is a design model that not only broadcasts programs and films, but also complements the interior. In the \
Sefir TV is also a designer TV, although it looks more like a stand. He has the Ambient option, adjusting the TV to the tonality and texture of the wall in the room. Also, the novelty shows the weather, photos or time.