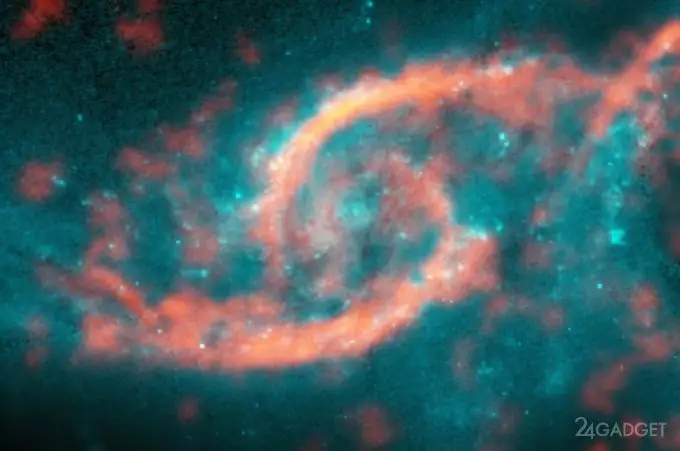 A team of astronomers used the Atacama Large Millimeter Array (ALMA), a complex of 66 antennas combined into a single astronomical radio telescope, to observe a giant cosmic tsunami in the form of an eye that arose from the contact of the arms of two spiral galaxies – IC 2163 and NGC 2207. 5e4df63676868 Despite the immense scale of the Universe, some galaxies are so close to each other that \In certain circumstances, the consequences of this interaction lead to the formation of rare "eyelids" -like structures that arise as a result of the exchange of materials between colliding astronomical objects and act as a catalyst for star formation (when one galaxy absorbs another, the newly emerging galaxy receives a powerful stream of materials rushing from peripherals to the center).
The impressive resolution and sensitivity of ALMA allowed scientists to track the movement of carbon monoxide, one of the main components of star formation, moving at a speed of 100 kilometers per second from the edge into the structure formed by the collision of two galaxies. At the indicated speed, the gas randomly moves from the outer edge of the \Studies have shown that in places where the gas stops, its most dense accumulation is observed.
Bruce Elmegreen, a specialist at IBM's New York research unit and one of the authors of the observation, compares gas migration processes with a giant sea wave that travels at an enormous speed and gains power until it collides with the ground on shore. Observation by astronomers explains the creation of ocular formations. Now scientists continue to study the formed "eyelids" to find out whether the properties of molecular clouds and clusters of stars located inside these "eyelids" will differ from the properties of similar objects located in other parts of the galaxy.