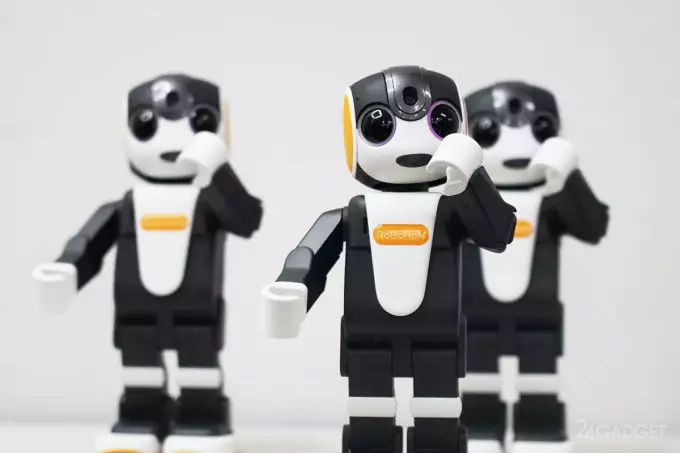 A few years ago, the Japanese company Sharp presented RoboHoN, a pretty hybrid of a robot and a smartphone. The users liked the novelty, however, the price of the device was biting ($ 1800), so the manufacturer decided to release the RoboHoN line, but with a more affordable price.
The new RoboHoN was left without a projector built into the head of the 1st generation robot smartphone. Instead, it was endowed with a more advanced hardware: the 8-core Snapdragon 430 chipset (instead of the Snapdragon 400), 2 GB of RAM and 16 GB of internal memory. Probably, the company decided that this was enough. Moreover, the diagonal of the display is only 2.6 inches (it was 2 inches). In the forehead of the robot there is an 8 megapixel camera. The battery capacity of 1700 mAh should be enough for one day of battery life. The device operates on a more modern OS Android 8.1, in the first RoboHoN based on an obsolete version of Android 5.0.
Applications built into the robot allow it to be programmed. Promised support for managing a \The possibilities of commercial use of the device are also provided. In the store, he will help customers with the choice, and at the reception at the hotel he will advise new customers and guests, and in any of 4 available languages: Japanese, English, Korean or Chinese.
3 RoboHoN models will be for sale. The LTE model will be available for $ 1,630, the cost of a Wi-Fi analog is slightly lower – $ 1,085. The most affordable option for $ 715, although it has moving limbs, will not be able to walk on its own, but it will be able to move its upper body even to the beat of the music. All gadgets have the functions of a mobile device. Sales of smartphone robots will start on February 27, but only in Japan.
, robohon.com