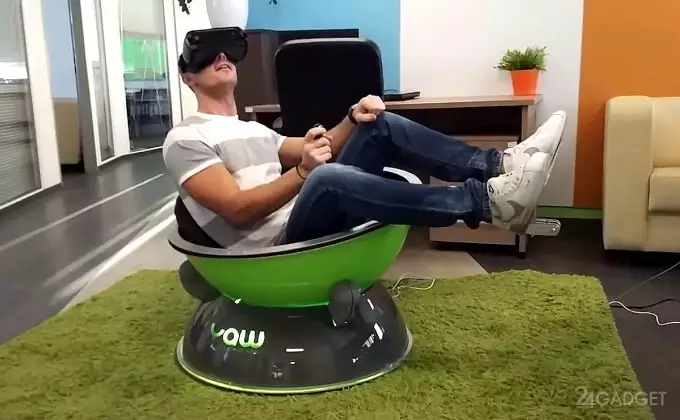 Yaw VR is a special swivel chair that gives complete freedom to the turns and inclinations in virtual reality. The simulator with an unusual appearance in the shape of a bowl rotates 360 ° on the horizontal axis and tilts in any direction by 24 °. The position in real space is synchronized with the movements of the player in virtual reality.
The simulator is designed so as not to occupy much space in the room, so even in the apartment there is a place for it. Yaw VR consists of two hemispherical halves of different diameters, which are easily assembled into a finished product. Inside there is a seat and a retractable footrest. The upper bowl is placed on three rotating supports, responsible for changing the user's position in space during a VR game. Management is carried out by a separate unit, operating on the basis of open source software SimTools.
Currently, Yaw VR works with 80 games and PC applications. Also, developers are already working on support for the PlayStation VR, Oculus Go and Samsung Gear VR platforms. The gadget is on pre-order $ 990, deliveries to the first customers will begin in August this year.
Last year, the project was demonstrated at CES 2018. Then its authors created a simple video demonstrating not only the operation of the chair, but also the genuine emotions caused by its use.