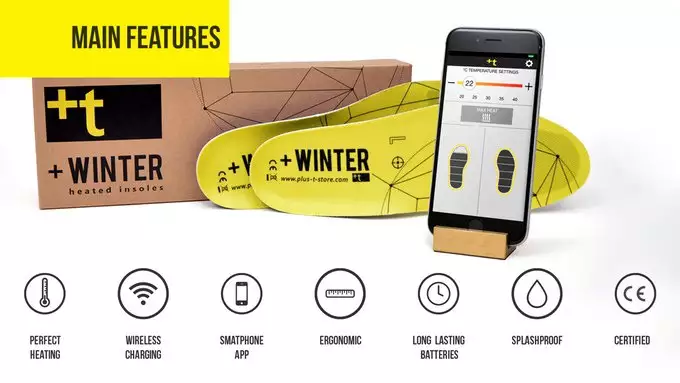 In winter, in order not to get sick, the first thing you need to do is warm yourself – put on a sweater, a warm jacket, a scarf, a hat, appropriate pants and winter shoes, preferably in combination with woolen socks. All this we know, but what if you look at modern gadgets? For example, to + Winter smart insoles from a Swiss startup + t. The product warms the feet, and the temperature is controlled from the proprietary application for smartphones on Android and iOS. The insoles are incredibly thin, only 2 mm high, so they can be used not only with everyday shoes, but also with ski boots, ice skates, bicycle shoes, rubber boots, snowboard boots and so on.
Depending on the set heating temperature (maximum heating temperature is 45 degrees), the built-in battery on one charge can keep your feet warm for about 5 hours. What is important, + Winter is heated only while driving, the installed accelerometers are responsible for this. When the user is standing, the insoles stop warming to save energy.
You can find out the battery level, you can set the temperature via mobile software. Data is exchanged via Bluetooth 4.0. A wireless charger is used to recharge. In the kit for 99 Swiss francs (6 thousand rubles), only one charger is offered. An extended version with a pair of BZU will cost 119 Swiss francs (7.2 thousand rubles). Perhaps it is worth taking a closer look at the second configuration, since it takes 3 hours to fully restore the battery charge of one insole.
The gadget is already sold in Europe. And the company's goal on Kickstarter is the desire + t to announce the product to the whole world, finding new markets for itself. Directly producing insoles is engaged in an enterprise in northern Italy, not China.