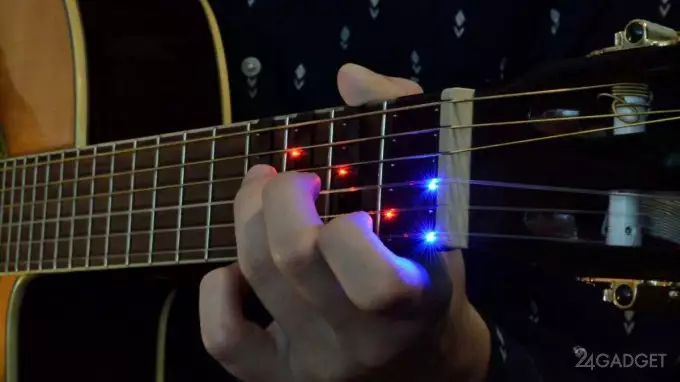 A startup from France offers a new way to learn how to play a 6-string guitar using the FretX smart pad he developed. The product is made in the form of a thin plate with a thickness of paper, which is attached to the neck under the strings and occupies the first four frets. On the surface of the gadget there are red and blue LEDs, which during training light up in the sequence necessary for the game (chord). This will allow the \FretX is versatile and suitable for both right-handed and left-handed people.
FretX is powered by a miniature battery that lasts 48 hours to play continuously. A smartphone with installed proprietary software acts as a companion for the device. Its database contains more than a thousand songs using about 93 chords. Thanks to the Bluetooth connection, the lights light up on time, thereby alerting them to the sequence of actions.
The company at Indiegogo has already successfully exceeded the threshold required to start production, and anyone can buy a smart assistant for $ 49. The first deliveries are scheduled for May 2017.