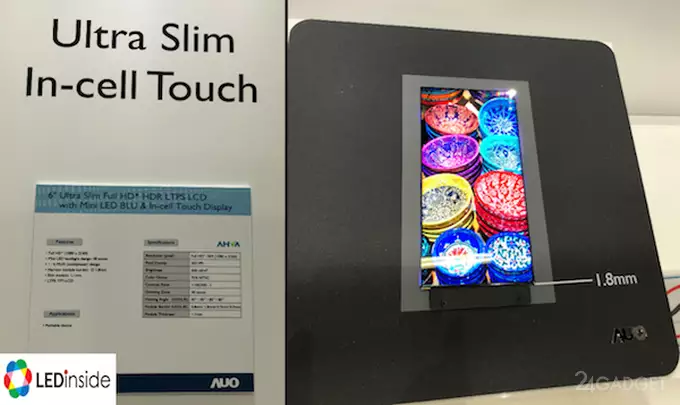 Fingerprint sensors built into smartphones displays the main inconvenience of limited scope. The finger has to be applied specifically to the location of the scanner. But technology is evolving. So, AU Optronics, or AUO for short, proposed a solution to this problem. At the next Display Week 2019 exhibition, this manufacturer from Taiwan showed several solutions. One of the most interesting is the world's first liquid-crystal optical LTPS display with a full-screen fingerprint scanner. Another option is touch screens for mobile gadgets with the world's smallest bottom frame and smallest through hole.
A full-screen fingerprint LCD with an AUO called AUO has a diagonal of 6 inches. The sensor is built into the very structure of this screen. At the heart of the development is an AHVA matrix with a pixel density of 403 PPI and a resolution of 2160 x 1080 pixels. According to the manufacturer, the fingerprint reading area has the same density and response time, which is 30 milliseconds.
The other display is 6.2 inches. The aspect ratio is 21: 9, the resolution is 2520 x 1080 pixels. The diameter of the hole for the front camera is only 4.2 millimeters. The width of the lower border is only 1 millimeter. This is 40% less than the indicators of existing analogues. Full-screen fingerprint sensors are actively patented and shown by other companies, for example, Xiaomi and Samsung. So very soon smartphones with a similar filling will begin to produce quite actively.