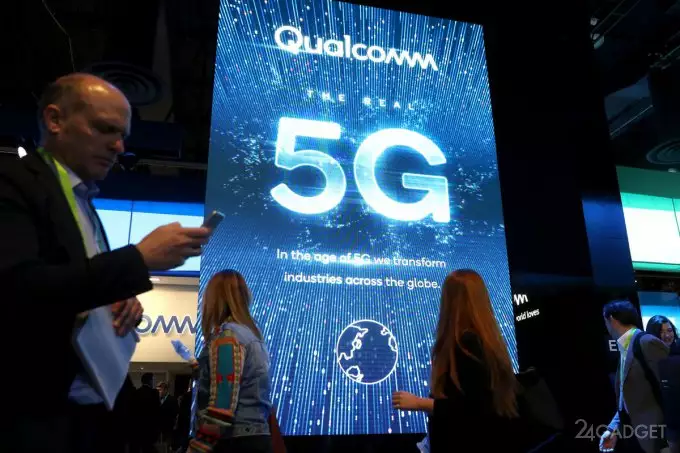 Very soon, smartphones with 5G capabilities will enter our lives. Manufacturers will present several of these gadgets at the upcoming Mobile World Congress. Qualcomm is following trends and is also working on 5G technology. So the company announced Snapdragon X55 – the second generation of its own 5G modem. And this despite the fact that smartphones with the first generation of this modem have not yet appeared on sale.
The production of gadgets equipped with Snapdragon X55 will take at least several months. However, there have been many improvements in the new version. The previous version of the Snapdragon X50 showed about 4.5 gigabits per second at peak load. In the new model, the company increased this figure to 7 gigabits per second. Such speeds are still far from the potential of 5G networks, but it is worth noting that their capabilities are steadily increasing.
It is interesting that the new chip, like its predecessor, supports 3G and 4G connections, bringing improvements to them. So, in 4G LTE Snapdragon X55 supports LTE Cat.22 technology with speeds up to 2.5 gigabits per second.
Of course, 7 gigabits per second is much more than what an average mobile user needs. However, the X55 is not only suitable for smartphones. It will bring 5G to any kind of gadget, including wireless routers, tablets, laptops, car systems, and even to "Augmented Reality devices" (mainly VR headsets) that require significant bandwidth.
In parallel with the Snapdragon X55, Qualcomm plans to launch the 5G mmWave antenna module. Technological solutions "modem-antenna" will also appear. They will not only complement the capabilities of the brand new modem, but will also increase the efficiency of energy consumption. The fact is that the battery life will increase. It is worth noting that the first Qualcomm 5G modem should be quite energy-intensive and not easy to cool. So it's nice to hear about good changes in this direction. Gadgets with a new modem will be released closer to the end of this year.