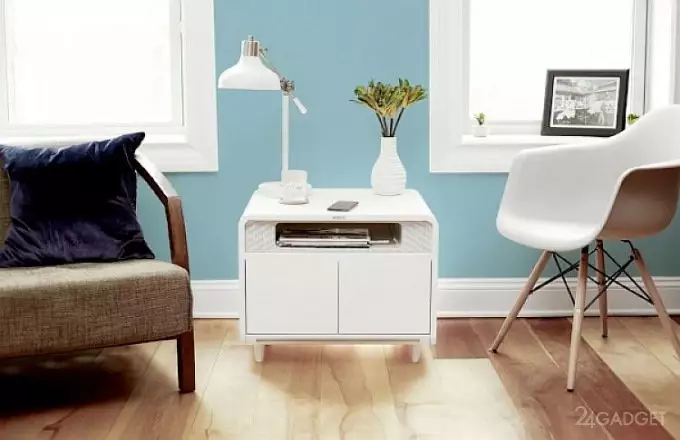 Sobro coffee smart table not only fits any interior, but also takes its own corner in the hearts of its owners thanks to the functionality and thoughtfulness in detail that is so rare in modern furniture. A novice cools drinks, charges gadgets with wire and wireless means, lights up the floor in the dark at the moment when the tenant decided to go drink some water or do something else under cover of night, speaks in the Bluetooth speaker and so on.
You can write a novelty in almost any design solution. The top countertop is equipped with a touch panel. It controls all the functions of the device, for example, includes a TV or music. At the bottom there are USB ports, as well as sockets for charging and connecting any gadgets: tablet, smartphone, laptop, e-book and more. There is also a special cutout for passing wires.
The miracle table also has a Bluetooth 4.0 module. It can connect to almost any device, up to smart TVs. This stylish piece of furniture has also been equipped with a pair of lockers, two speakers and LED night lights.
The first box is the most common, and it is designed to store magazines, not heavy items, and so on. The second is a refrigerator for cooling the owner's favorite drinks. Sobro also has a mobile application that allows you to lock drawers, control the backlight, connect to mobile gadgets and play music.
Last year, a startup successfully raised funds for the production of Sobro coffee smart table. Therefore, the reliability of the manufacturer is already less than doubts. You can pre-order a model of a Sobro coffee table for $ 399 per 1 copy.