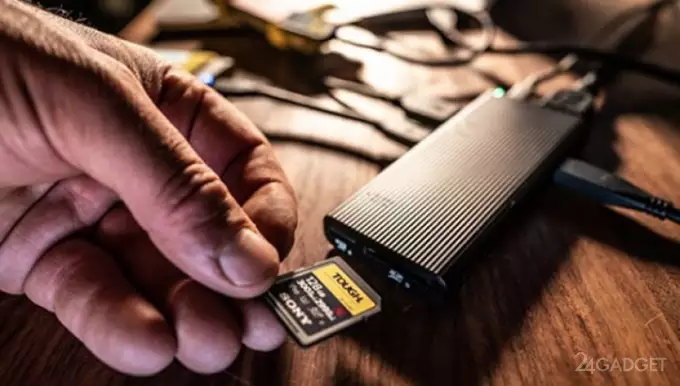 The information age places high demands on data storage systems, their transmission and protection of storage media not only from hacking, but also from ordinary mechanical damage, moisture and dirt. Sony introduced new developments in this area and demonstrated the innovative MRW-S3 device for reading information from SD and Micro SD UHS-II cards and providing information transfer at a speed of up to 1000 MB / s.
The card reader housing is made of aluminum with a damage-resistant coating to prevent scratching. The weight of the device is 95 grams, and a USB-C to USB-C cable is supplied. This cable can also be used to connect to USB 3.1 Gen 2 devices or to a USB PD AC adapter with power up to 100 watts thanks to the integrated eMarker. However, the MRW-S3 also has an HDMI connector that supports 4K 30k / s. In addition to the card reader, Sony has also developed a new series of SD cards – TOUGH SD. The new SF-M TOUGH cards are positioned as the most reliable and durable UHS-II SD cards in the world. They are reliably protected from moisture and dust, and are also resistant to shock. The data transfer rate of SF-M TOUGH is 277 MB / s for reading and 150 MB / s for writing.
Using MRW-S3 for SF-M TOUGH cards will allow backups much faster and reduce buffering time. Also, the standard UHS-II "SF-E" SD card series with a speed of up to 270 MB / s for reading and 120 MB / with for recording and rated V60. In both types of cards presented there is special software that allows you to recover accidentally deleted photos. The sizes of drives will be the following volumes: 64, 128 and 256 GB.