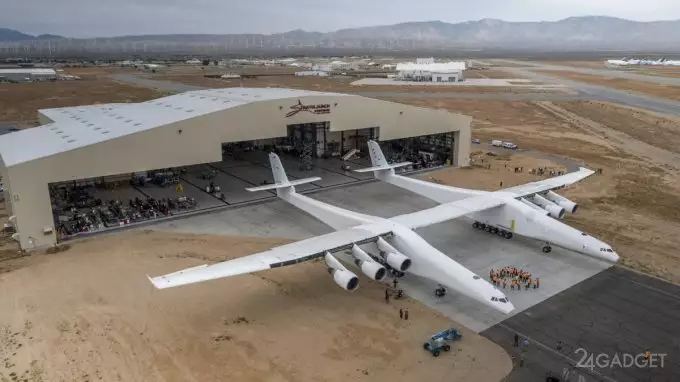 The world's largest Stratolaunch aircraft with a custom design, which was announced back in 2011, finally rolled out of the hangar. The development is being created for reusable transportation of a launch vehicle to a height of about 10,000 meters with its subsequent launch right in the air. The launched vehicle will deliver cargo to low Earth orbit, including capsules with the crew on the ISS. The creation of the aircraft is a private company of Stratolaunch Systems Paul Allen, a co-founder of Microsoft Corporation.
The wingspan of a flying machine powered by six Pratt \u0026 Whitney PW4056 engines is 117 meters, which is more than any football field, the length is 72.5 meters and the height is 15.2 meters. Weight Stratolaunch – 226.7 tons. The maximum fuel mass is 113 tons. The weight of the payload – 249 tons. In one flight, they plan to lift up to three missiles at a time. To do this, Stratolaunch will require a 3.6 km runway.
In the near future, the company plans to carry out a series of tests of the fuel system and verification of on-board equipment. The timing of the flight tests is unknown.